Last month (June 2023), the bridge connecting Koh Norea (Chbar Ampov) Koh Pich (Tonle Bassac) was about 90% complete and on track to be commissioned by the end of 2023.
Construction of the cable-stayed (824m long and 24.5m wide) bridge commenced in October 2020 with an estimated construction time of 35 months at a cost of US$38 million.
The bridge will connect central Phnom Penh with NR1, thereby reducing traffic congestion on Monivong Bridge and make travel times from Chbar Ampov to BKK, and Riverside much quicker.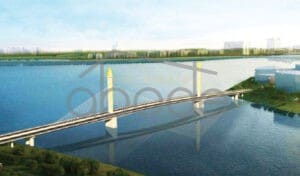 This, of course, will open up the areas beyond like Prek Aeng which is already seeing development on an impressive scale and offer a different route to the new Phnom Penh International Airport.
Norea City
Norea City is a new urban area built on a new man-made island of reclaimed land in Phnom Penh.
The island (Koh Norea) is on the Mekong River next to the mouth of the Bassac River. The project is also known as Koh Norea Satellite City, and it is being developed by Overseas Cambodia Investment Corporation (OCIC).
The island will be connected to Koh Pich (Diamond Island) by the new bridge (currently underway) and National Road Number 1.
The 125-hectare Koh Norea island project is being overseen by developer Overseas Cambodia Investment Corporation owned by influential tycoon Pung Khiev Se.
It is set to inject a reported $2.5 billion of investment to transform the confluence of the Mekong and Bassac rivers.
Seen to some extent as a sequel to Koh Pich (also an OCIC project developed as a large-scale expansion of a small natural island), the new island is a very visible landmark in what promises to be a transformation of the sleepy locale of Chbar Ampov district."
Major land reclamation in the Mekong River has forged ahead in what many say will be the second Diamond Island.
But while landfilling in other locations have been met with unease, this project has taken shape with little, if any, controversy.
Chbar Ampov
Chbar Ampov is a district that is often overlooked by tourists and yet it is a great place to experience local culture and way of life.
The district has a mix of modern and traditional architecture, and streets are lined with shops, restaurants, and cafes where you can experience the local cuisine.
Chbar Ampov is known for its street food, grilled meats, noodles, and soups and there are many good restaurants serving traditional Cambodian dishes, like fish amok and Khmer curry.
Another reason to visit Chbar Ampov is to experience the local markets that sell fresh produce, seafood, and other goods.
The Chbar Ampov Market is popular for locals and tourists as it a bustling market selling everything from clothes to electronics.
Oh, and one cannot forget Euro Park located in Sangkhat Niroth about 12km from Wat Phnom.
It is a pastiche of Eurpoean inspired scale versions of iconic buildings where you can wander about, take a picnic, visit the flower garden, or take a coffee.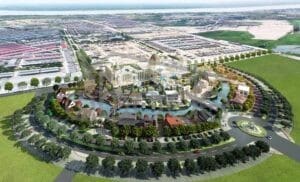 PPWSA to build new intake station in Koh Norea
The Phnom Penh Water Supply Authority will build a replacement intake station in Koh Norea to replace the old station location in Kdei Takuy with a current capacity of 260,000m3/day.
The new project can pump 300,000 to 400,000m3/day.
The construction project is divided into four phases, including technical consulting, civil construction, electro and mechanical and water pipeline connection, scheduled to be completed by early 2024.
Phnom Penh's four operational water treatment plants can supply 600,000m3/day with the new water treatment plant in Bakheng still under construction.
Due to the city's growth, the demand for clean water has exceeded the production capacity. The actual demand is about 800,000m3/day.
In response to this demand, the PPWSA is building the Bakheng water treatment plant, which can produce an additional 400,000m3/day.
In total, from 2023 onwards, the PPSWA expects to be able to produce 1 million cubic meters per day of clean water for Phnom Penh and Takhmao.
Check us out on Google