The New Phnom Penh International Airport (NPPIA) project is a greenfield airport currently under development, 20km south of Phnom Penh in Kandal Province will be operational by 2024.
Also called Techo International Airport, it will be one of the biggest in the region covering 2,600 hectares.
It will be built in three phases, each with own apron and a 4km runway capable of handling large long-haul aircraft such as the Airbus A380-800 and Boeing 747-800.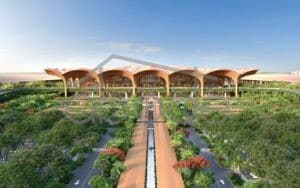 New Phnom Penh International Airport (NPPIA) background
Cambodia Airport Investment Company (CAIC) is a joint venture between the Royal Government of the Kingdom of Cambodia (RGC) represented by the State Secretariat of Civil Aviation (SSCA) and OCIC.
Connected to the capital by motorway and ultimately with an elevated rail line, the airport facilities will include hotels, a convention centre, office buildings, an ecological park and private housing.
The NPPIA could replace the existing Phnom Penh airport when it commences operations.
The new airport will replace the current airport for commercial flights, while the old airport is likely to serve government officials, the military, domestic flights, private jets, diplomats and foreign leaders.
The project site is large enough with three parallel runways capable of accommodating any type of aircraft currently in operation.
Phase one is under construction and is set to be completed by the end of 2024 and ready to serve 13 million passengers a year.
Phase two is expected to bring the tally to 30 million passengers by 2030.
Phase three will have another terminal, south of the first one, and a third runway and able to accommodate up to 50 million passengers a year.
A highway is also being built to connect the airport with Hun Sen boulevard.
Soil settlement is nearly done and will lay for one year before the road is concreted in 2024.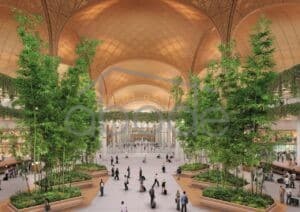 Location of the current Pochentong airport didn't allow for major infrastructure development, which is why the new location was chosen, where space is plenty.
Most of the $1.5 billion required to finance the project was initially intended to come from China Development Bank. However, the 2018 agreement was revoked in 2021, leaving a $1.1 billion hole in the financing plan.
As a result, CAIC started issuing bonds in November 2021 to meet its budget. Mostly subscribed by local insurance companies and banks, they allowed CAIC to raise $300 million.
Consequently, there is not a single dollar of Chinese money financing the airport. The current funding comes entirely from Cambodia.
Design of the airport is by Foster & Partners, a UK company and construction is being handled by state-owned Chinese corporations.
China Construction Third Engineering Bureau, a subsidiary of China State Construction Engineering, is building the terminal.
The runway, taxiway, apron and related facilities are made by Shanghai Baoye Group, a subsidiary of Metallurgical Corporation of China (MCC).

About Kandal Province
Kandal province is located in the middle south of Cambodia and covers 3,568km2. It borders Kampong Chhnang, Kampong Cham, Prey Veng, Kampong Speu and Takeo.
Kandal is one of the smaller provinces and completely surrounds, but does not include, Phnom Penh. Its capital, Takhmau (lit. Black Grandfather), is around 20km south of Phnom Penh.
Kandal serves as an economic belt to Phnom Penh of the capital with many of Cambodia's garment factories there.
Other export industries in Kandal include palm oil, peanuts, rice and pepper.
The province is renowned for its with one of its major attractions beings Odong, the former capital of Cambodia between 1618 and 1866.
A number of kings, including King Norodom, were crowned there.
Kandal is a typical wet plain covered with countless rice fields and other plantations. The average altitude of the province is around 10m above sea level.
The province features two of the largest rivers in Cambodia, the Tonle Bassac and the mighty Mekong.
Sources:
https://cambodianess.com/article/phnom-penh-new-airport-terminal-60-percent-complete
https://www.ocic.com.kh/projects/phnom-penh-international-airport
https://futuresoutheastasia.com/new-phnom-penh-airport/
Check us out on Google