Values have grown rapidly throughout Cambodia in recent years, and nowhere is this more evident than in Phnom Penh, which has seen the highest land price in the country.
However, the average price growth rate in the capital is predicted to be as low as 5% in 2023, owing in part to the fear induced by the forthcoming national election.
Average growth rates in the city have dropped from 12% to 10% in 2020, 5% in 2021, and 6% in 2022.
If you are seeking affordable land for sale in Phnom Penh, consider buying outside of the city centre for good, expected returns.
Areas like Sen Sok, Phnom Penh Thmey, Boeung Ta Mok, and Phnom Basit are suitable regions. These are the developing zones that are predicted to attract significant economic activity in the future.
During the last decade, the cost of land in central areas has risen rapidly which has attracted significant returns on investment in city property, it has driven the price in central Phnom Penh to very high levels.
Consequently, large developments, like condos, malls, and hotel chains establishing a foothold in the Kingdom, are now the ones focusing on downtown Phnom Penh.
Please have a look at the attached indicative price scales, according to regions, provided by the CVEA early this year: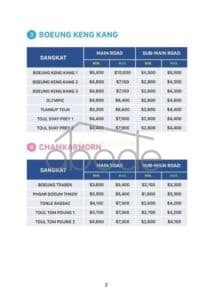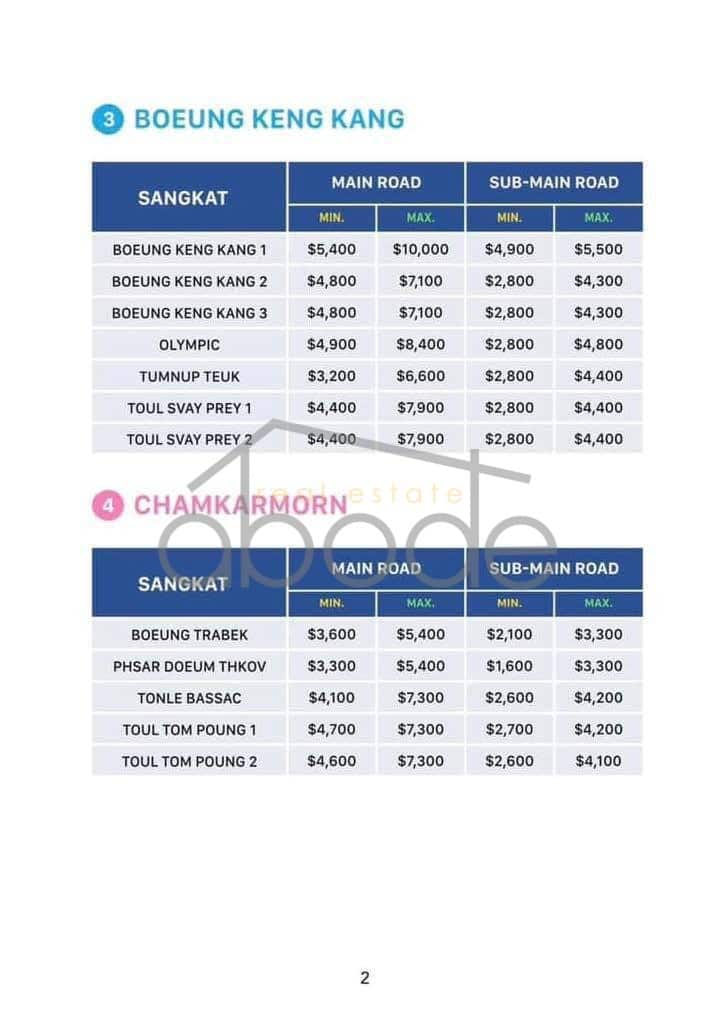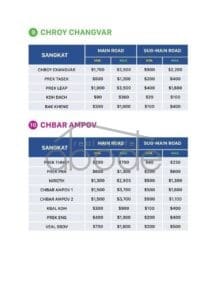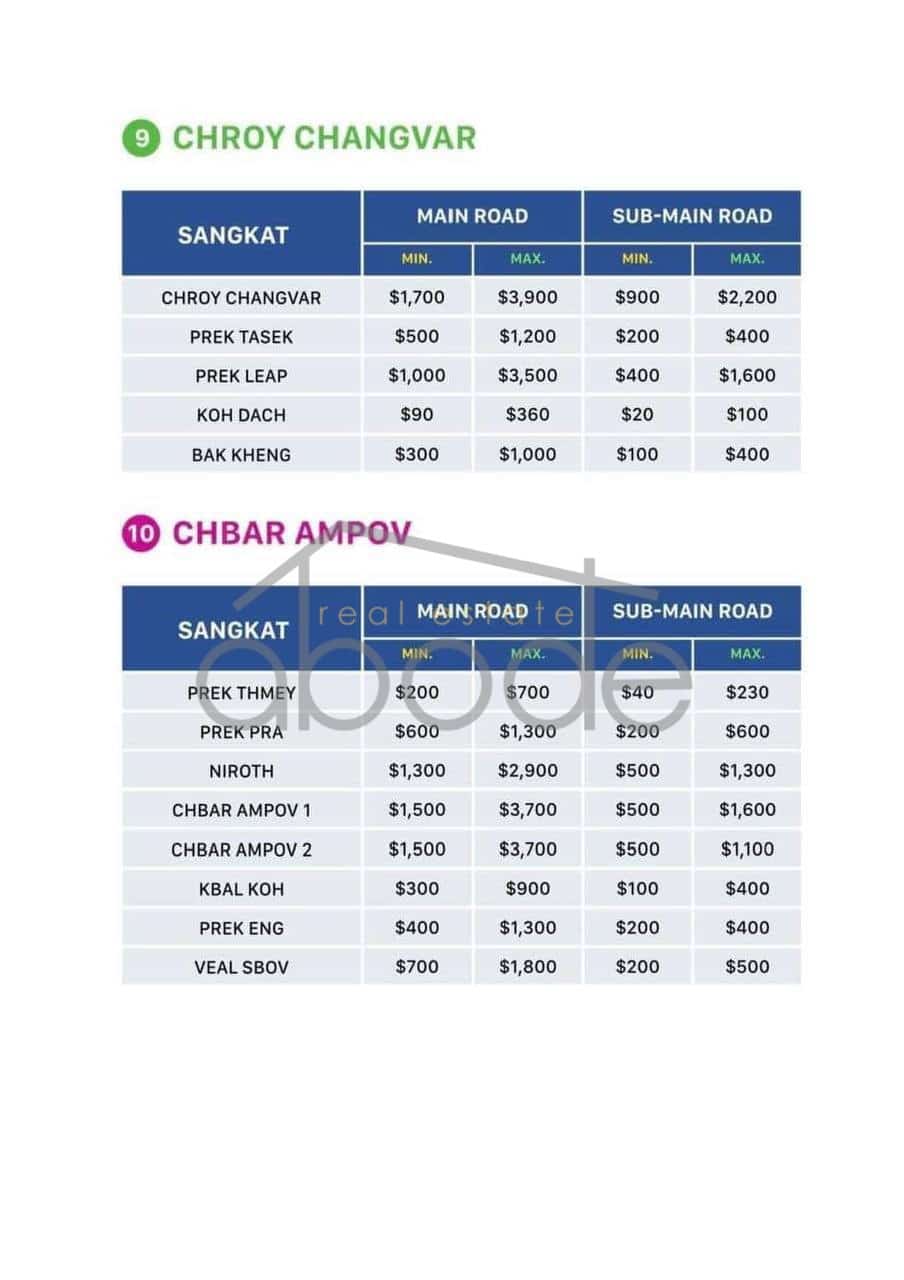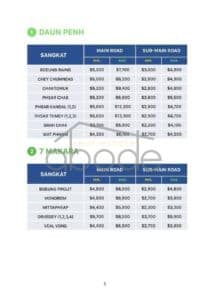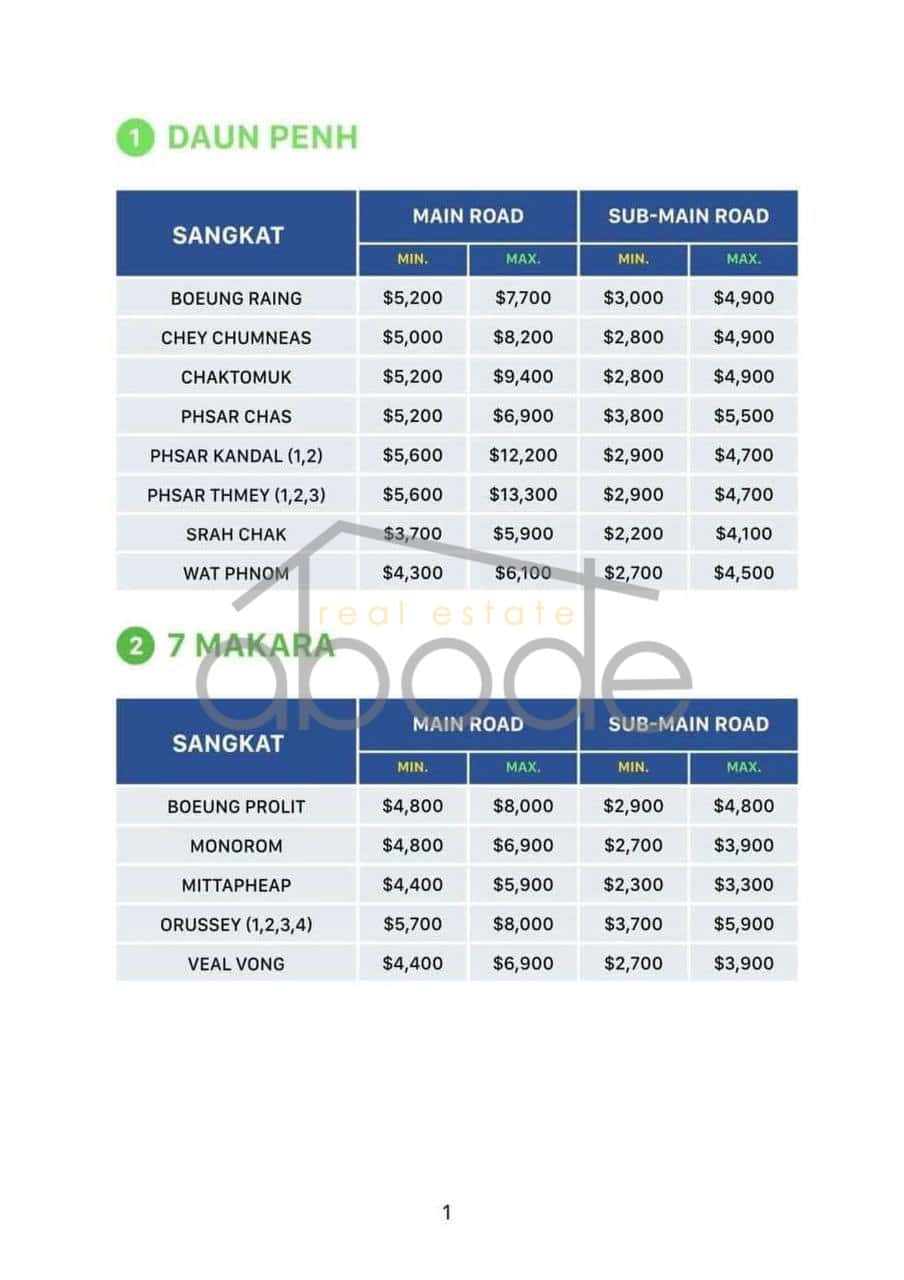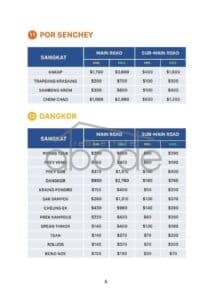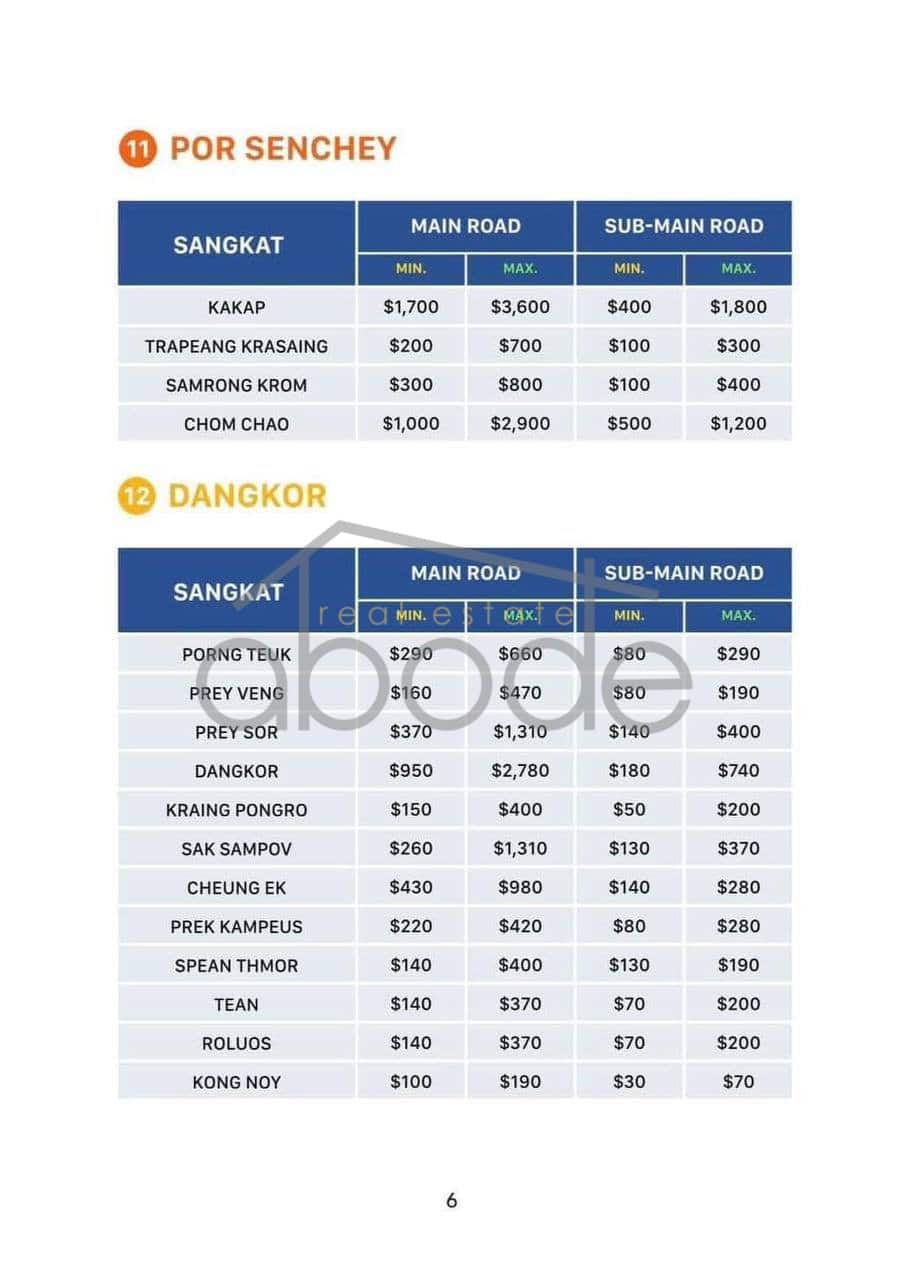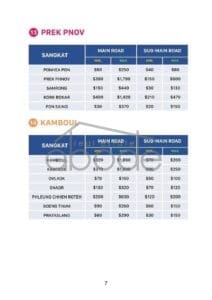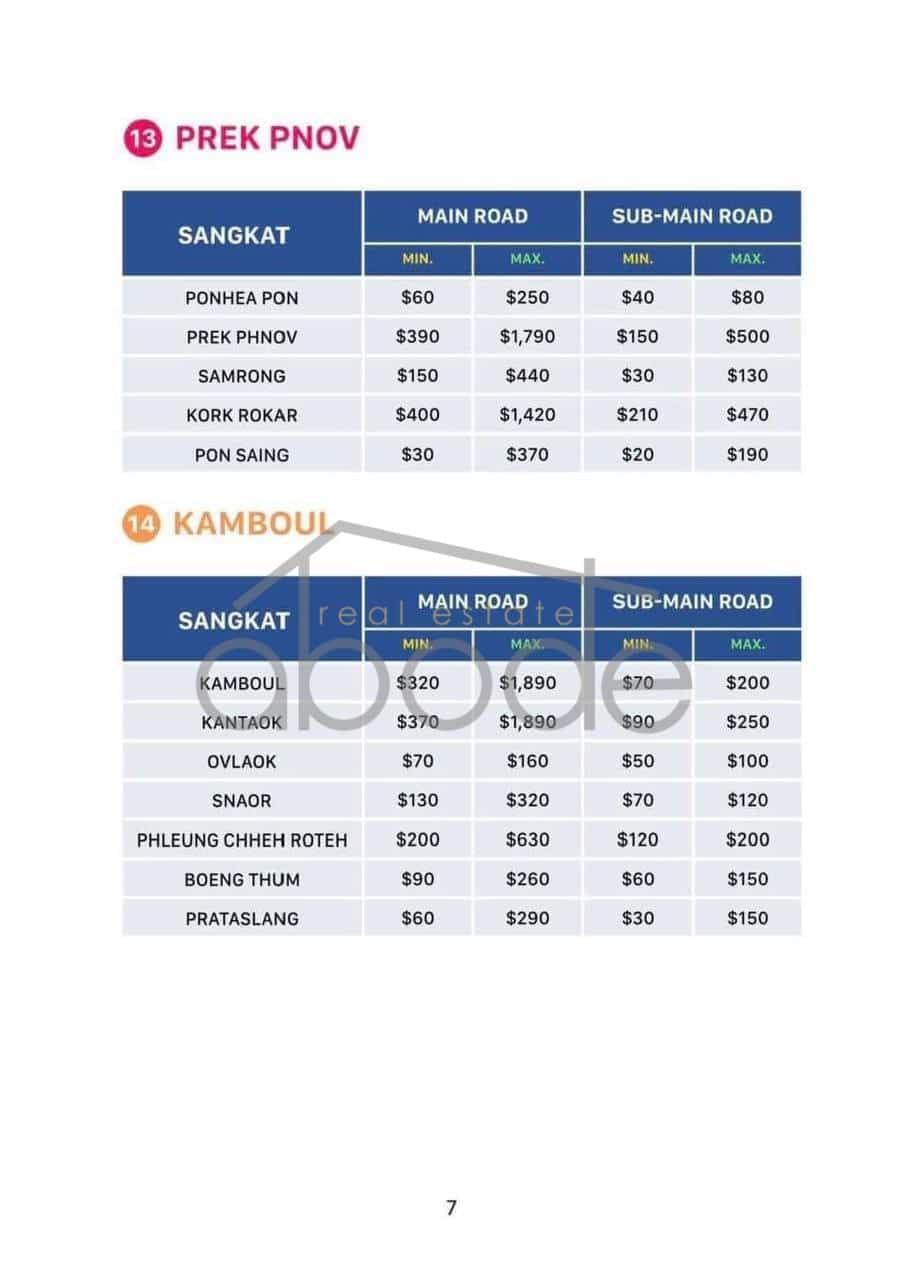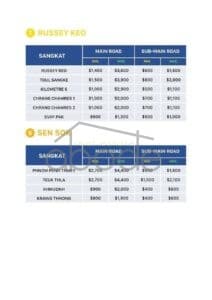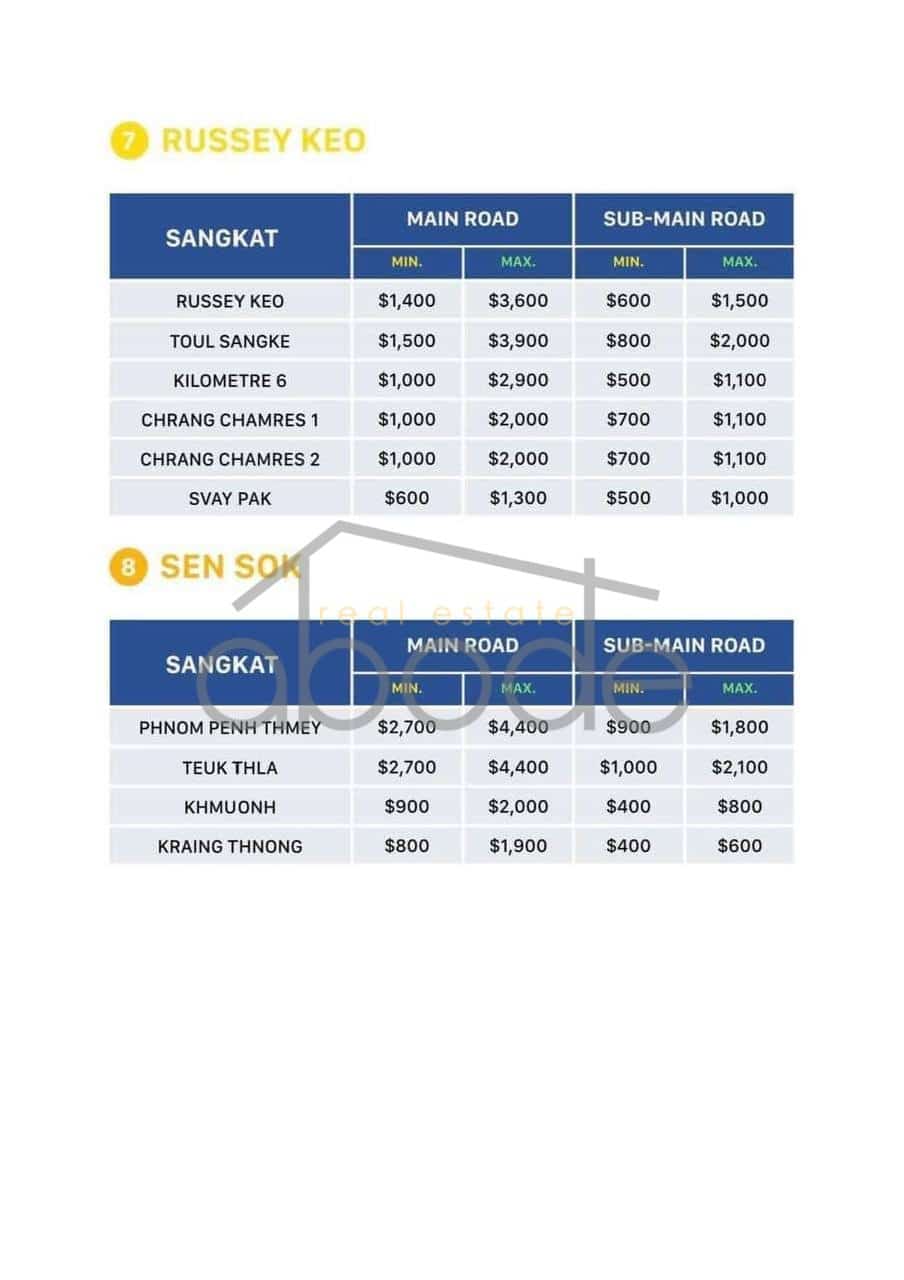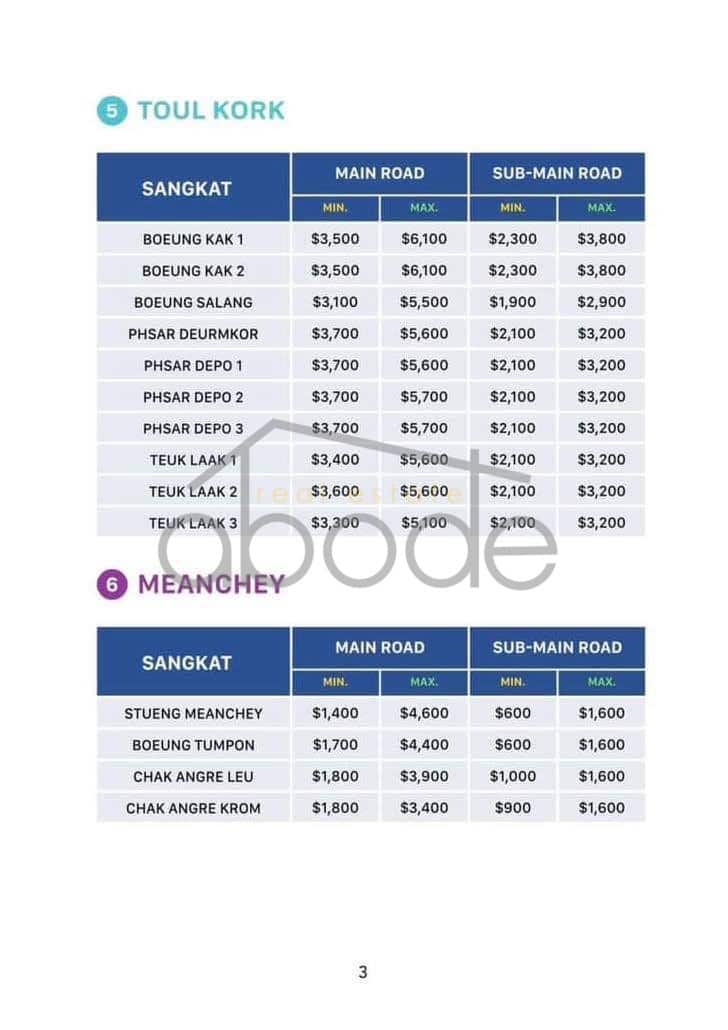 Where can I find land for sale in Phnom Penh (and Siem Reap)?
The good news is that there is a lot of undeveloped property on both Phnom Penh and Siem Reap's peripheries.
Bigger plots are preferred by local and foreign developers for the building of borey housing complexes, malls, and other projects.
You may also find reasonably priced pieces of property for sale in Phnom Penh's outskirts that are appropriate for business or residential use.
Low-cost land for sale in Phnom Penh
Phnom Penh is rapidly developing, and what was once rural farmland and rice paddy is now being rapidly developed and urbanized into residential zones.
If you want to identify land that will quickly rise in value and provide the highest returns on your investment, look at the outskirts of present development regions.
Developers are also reclaiming property that contains lakes and wetland marsh regions for housing complexes and shopping centers.
Developers with a huge enough money may buy this completely unused land and transform it into something extremely profitable.
Prek Leap along Road 6 to Siem Reap on Chroy Changva; Svay Pak adjacent to "bridge 2" along Road 5; and Chbar Ampov towards Kien Svay along Road 1 are all areas to seek for land for sale in Phnom Penh.
There are many boreys in all of these places, so you could also consider the region near Ta Khmau, which will house the planned international Phnom Penh airport.
You could also investigate land along Road 4 to Sihanoukville or Road 3 to Kampot, where there's still lots of land appropriate for industrial usage.
To the age-old question "… can foreigners purchase property in Phnom Penh?
Simple answer is no, land can only be purchased and sold by Cambodian citizens.
However, some foreigners employ a nominee structure or form a holding company, although potential overseas or expatriate purchasers should get independent legal guidance.
For major commercial goals, the holding company option may be appropriate.
Major retail to dominate city by 2025
According to a recent report, major retail spaces in the city of Phnom Penh are expected to dominate, growing to just under 1M sqm by 2025 across 62 shopping destinations.
This phenomenon is driven by the now global expectation of the youth generation (Gen Z and Millennials).
Quite simply, they want more and better shopping. They also want a wide range of entertainment options under one safe and comfortable air-conditioned roof.
They differ from previous generations in that they consider the journey to be as important as the destination.
If not, more.
We're on Google