Here 17 outdoor bars you must check out in Phnom Penh that capitalize on the warm, sultry evenings and changing cityscape of a metropolis that is making its own mark.
The growing real estate market in Phnom Penh is clearly having impacts on the type and standard of Food and Beverage and Entertainment options.
Phnom Penh's former history of dirty back street dive bars is becoming just that, history! Check out the swanky swimming pool options too.
What is emerging is a whole new genre as the city attracts a new clientele.
First a caveat! This list is by no means exhaustive as Phnom Penh is constantly evolving. This list is an opinion piece only and I will update it as the cityscape changes.
Feedback always welcome!
After Hours Bar
Street 21 near Bassac Lane
"Brand new outdoor bar in the gardens of a post-Colonial villa on the former site of Bar 21.
Great atmosphere – open and airy – with pleasant staff and live music."
Opening hours 5pm – 1am (daily)
https://www.instagram.com/afterhours.phnompenh/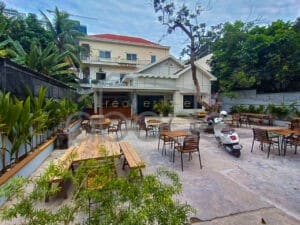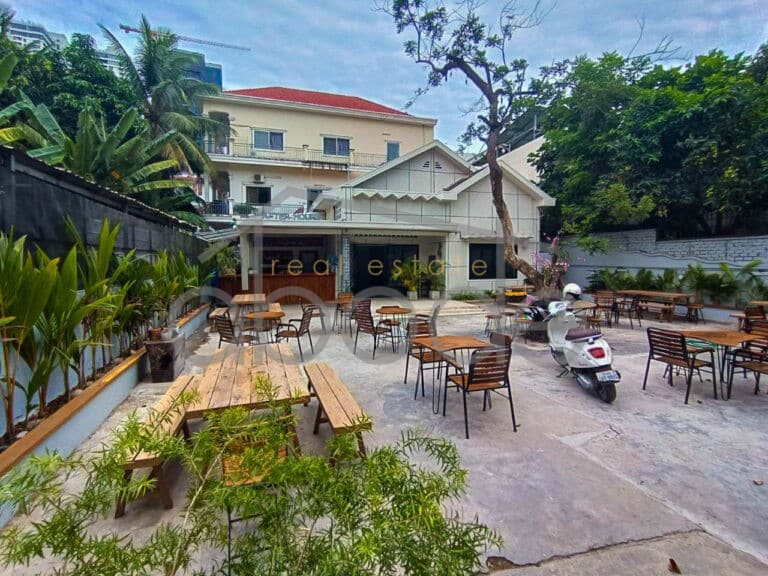 Tonight Bar
Corner Street 19 & 144, Riverside
"One of the new Khmer style open air bar using empty urban space smartly."
Opening hours 4pm – 12am (daily)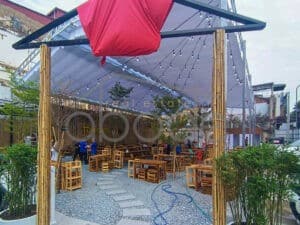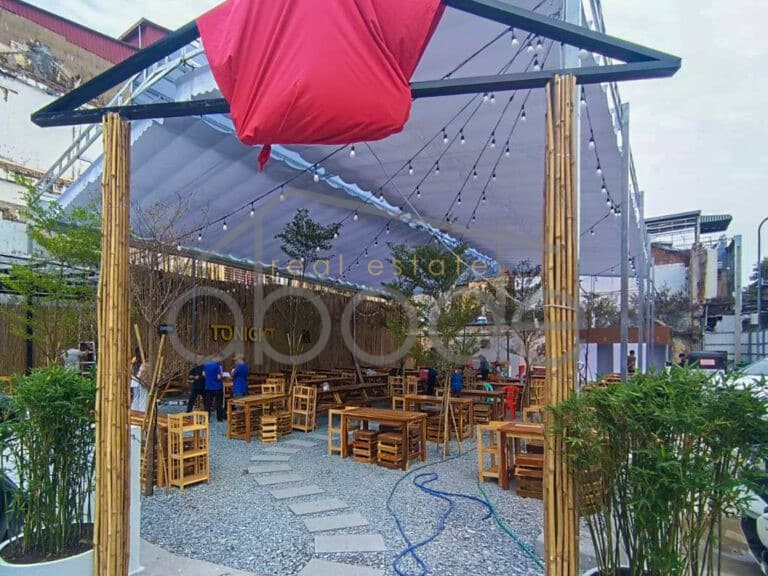 Botanico Wine and Beer Garden
St 29 near Independence Monument
"Good local craft beers in a relaxing outdoor setting."
Opening hours 8am – 10pm (11:30pm Friday & Saturday)
https://web.facebook.com/botanicowineandbeergarden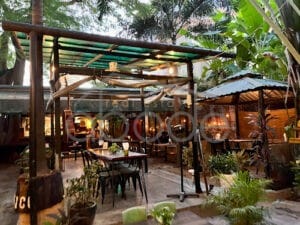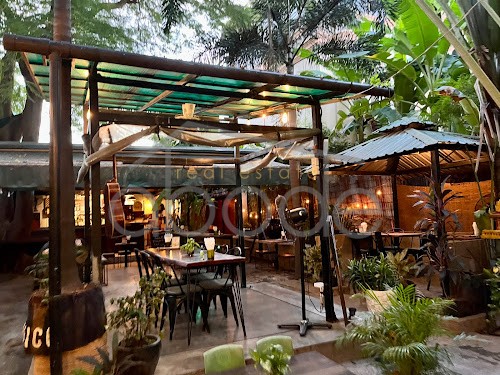 Bouchon Wine Bar
Oknha Ket St. 174 near Aura Apartments
"Located in an authentic colonial house near Central Market, Bouchon has a pleasant terrace / garden with seating arranged around 2 old trees.
Upstairs there is a balcony overlooking the terrace to enjoy French F&B classics."
https://bouchon-wine-bar.business.site/
Opening hours 4pm – 12am (Sunday closed)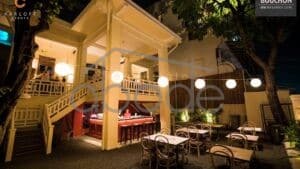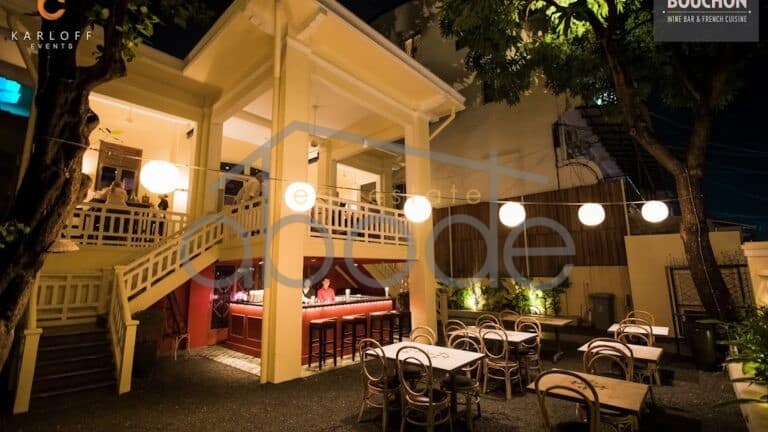 Sundown Social Club
Street 440 · Near Russian (Tuol Tumpong) Market
"Large covered rooftop bar with perfect views of the sunset and Russian Market. Great drinks and solid menu with great staff."
https://web.facebook.com/sundownsocialclub/
Opening hours 4pm – 12am (daily)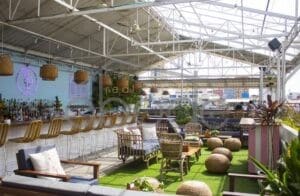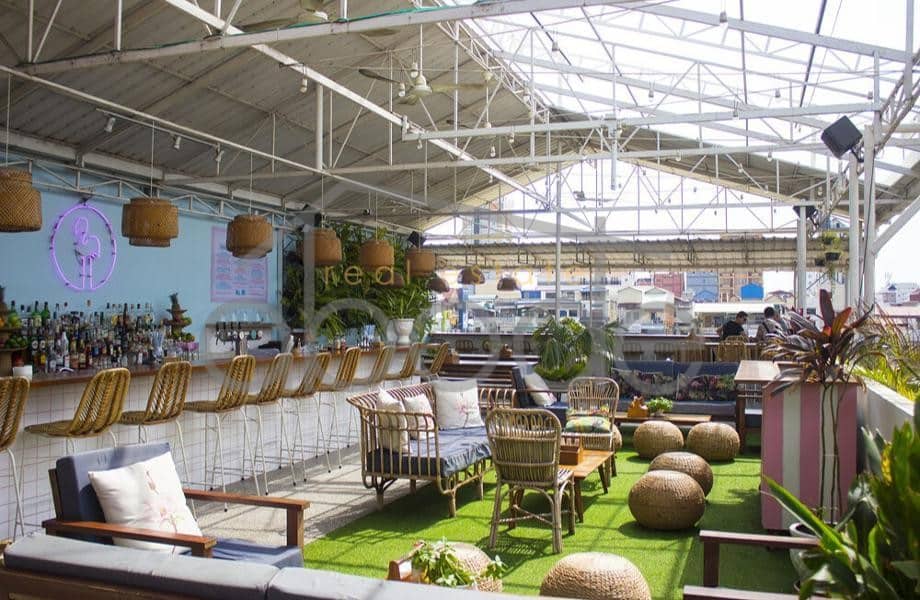 Abode Bar & Lounge
Bassac Lane St 308
"Great indoor and outdoor areas – a private home away from home offering a fine selection of beverages, cocktails, wine and dining.
A hidden outdoor garden area welcomes guests to Abode Bar & Lounge."
Opening hours 11am – 1am (daily)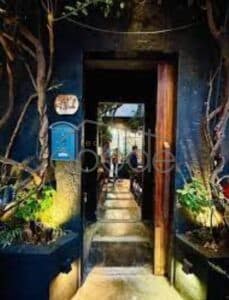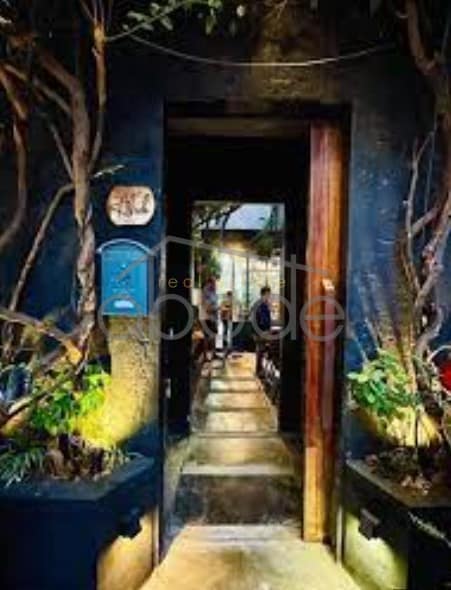 Hub Street Cocktails
Near Bassac Lane Street 21
"Brightly lit interior furnished with street side low tables and walls lined with bamboo opening onto a garden area gives the bar a nostalgic atmosphere.
It has a summer party vibe, making it one of the most lively and fun bars around."
https://web.facebook.com/Hubstreetcocktails/
Opening hours 6pm – 1am (every day)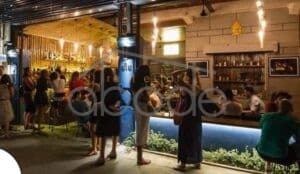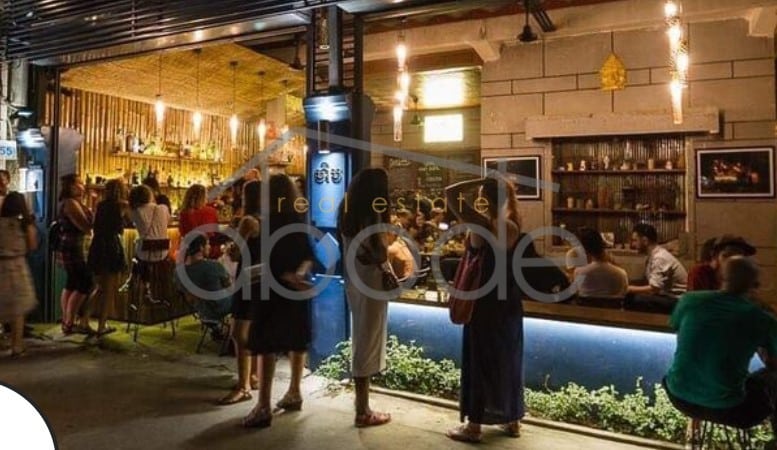 Hops Craft Beer Garden & Restaurant
Daun Penh / Tuol Kork / Eden Garden / Boeung Snor
"Hops' modern beer gardens are named after the essential element that delivers resins and essential oils to influence a beer's character.
The outdoor areas convey warmth, friendliness and belonging to customers."
Opening hours 11am – 1am (daily)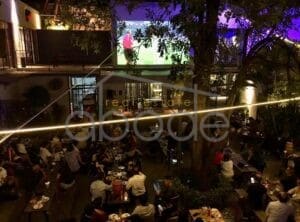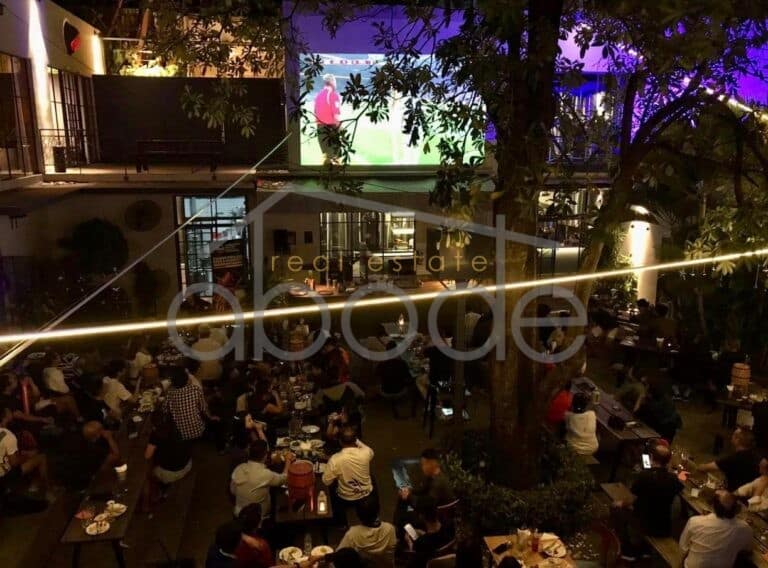 Lantern Rooftop Bar Phnom Penh
St. 282 BKK 1 (Baitong Hotel & Resort)
"Cross a glass bridge to reach the rooftop bar to explore a selection of craft cocktails, wines and spirits.
Take in the sunset while listening to live music, smart casual attire dress code and bookings essential on weekends."
Opening hours 5pm – 11pm (daily)
https://www.baitonghotel.asia/lantern-bar.php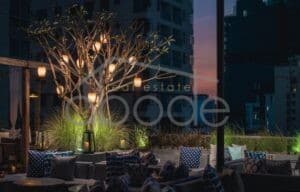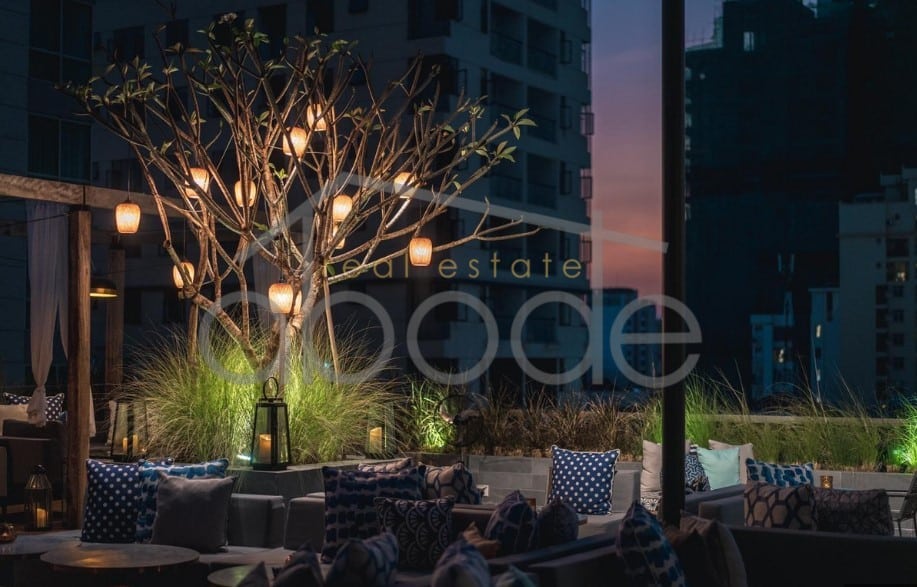 Eclipse Sky Bar
23rd floor Phnom Penh Tower, Monivong Blvd
"Considered by many as the best rooftop sky bar with a superb location and virtually unbeaten city views.
Good service and F & B selections."
Opening hours 5pm – 2am (daily)
https://eclipseskybar.business.site/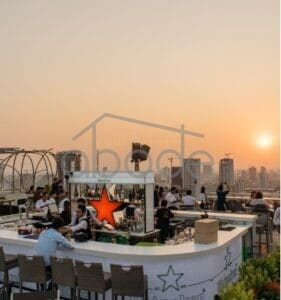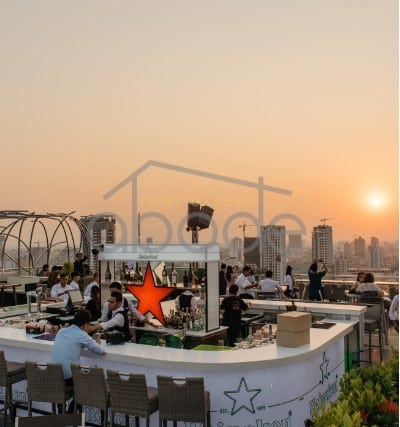 La Pétanque Bar & Kitchen
St 155 Street near Russian Market
"Cool place near Russian Market with live music and DJs".
Opening hours 3pm – 1am (daily) with Happy Hours 3pm – 6pm
https://web.facebook.com/lapetanquebar/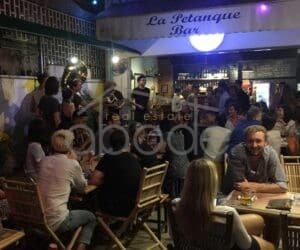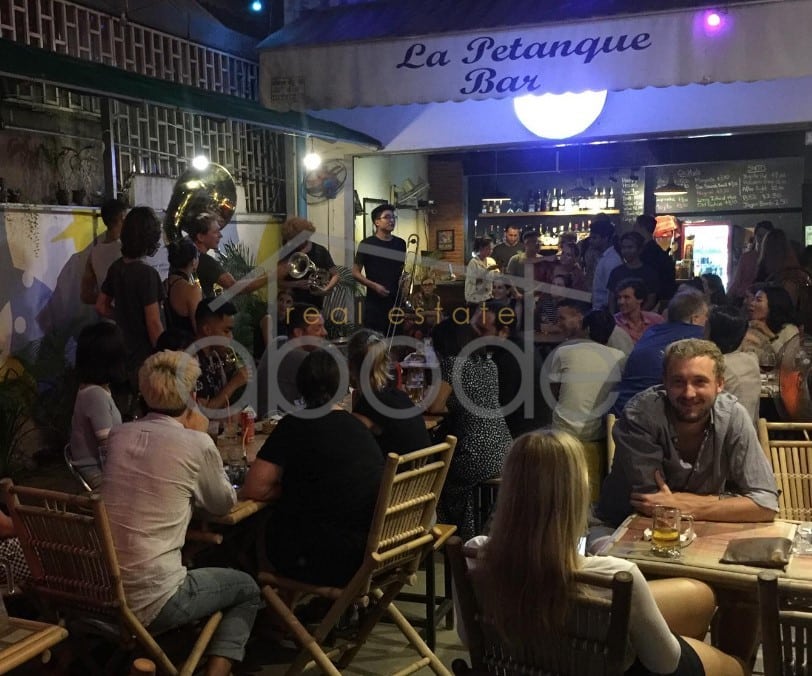 HighGround Sky Bar
Amass Tower on Street 63, BKK 1
"A bit pricey, but great outdoor bar with super city views, lovely cocktails and staff".
Opening hours 5pm – 2am (daily)
https://www.highgroundskybar.com/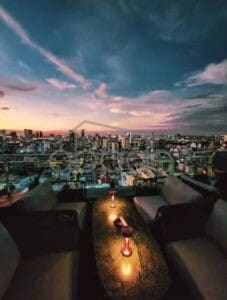 Le Moon Rooftop
Opposite Sisowath Riverside Park
Opening hours 5pm – 12am (daily)
"Pretty cool place with views from most seats in the entertainment epicentre hub, Riverside, of the city and the Mekong and Tonle Sap rivers.
Pleasant place for chatting with friends or listening to live music while enjoying a classic or nouveau cocktail.
Food menu good too".
Opening hours 5pm – 12am (daily)
https://www.le-moon-rooftop.com/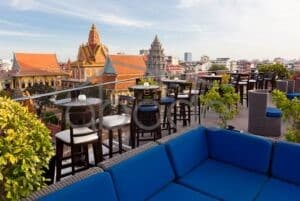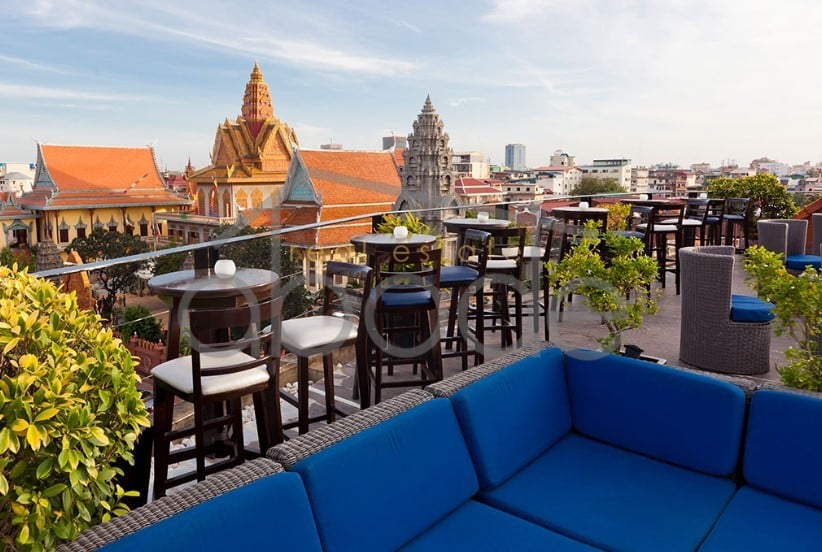 Elephant Sky Bar
Street 51 in BKK 1
"Located on the top of the Patio Hotel, so if you are looking for a cool place to have a drink and enjoy the views of the city sky line, this roof top bar is for you.
Lovely setting, lighting and décor".
Opening hours 5pm – 12am (daily)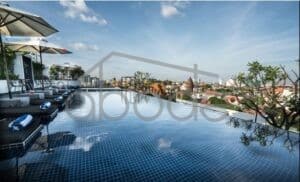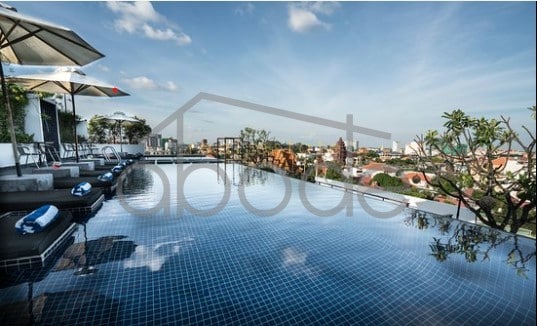 VEHAA
Sothearos Blvd near Street 312
Opening hours 4pm – 12am (daily)
"Lovely rooftop bar in a Khmer fusion style – very funky with good views and close to most city amenities, Independence Monument, AEON Mall and Bassac Lane.
Superb restaurant and well-trained, professional staff."
https://web.facebook.com/vehaabar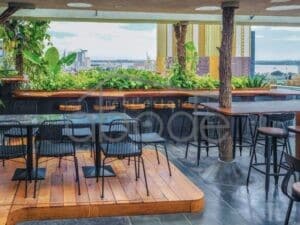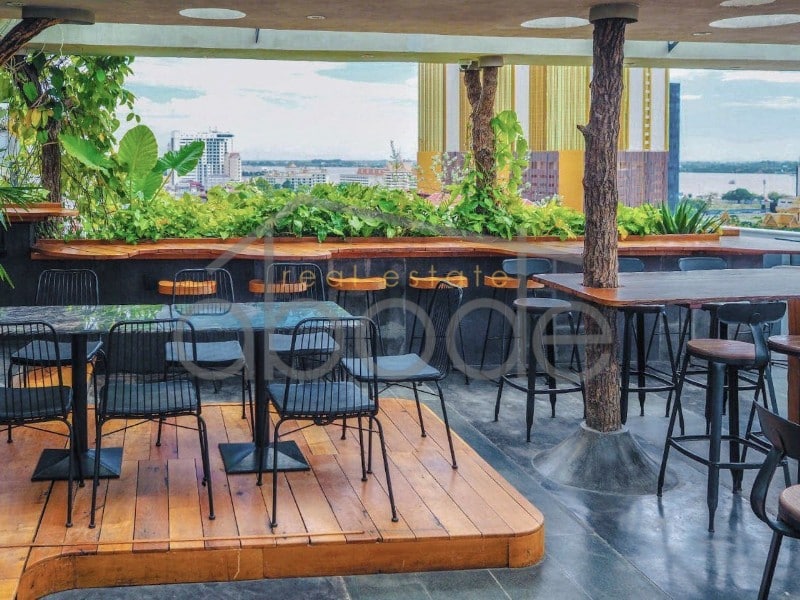 Kaja outdoor
Street Beer Garden on corner Streets 105 & 304
"Another Khmer style open air bar using empty urban space for a younger crowd to enjoy."
Opening hours 4:30pm – 12am (daily)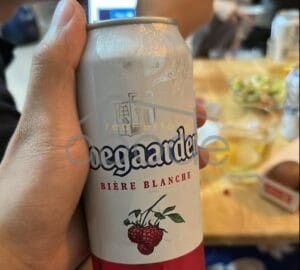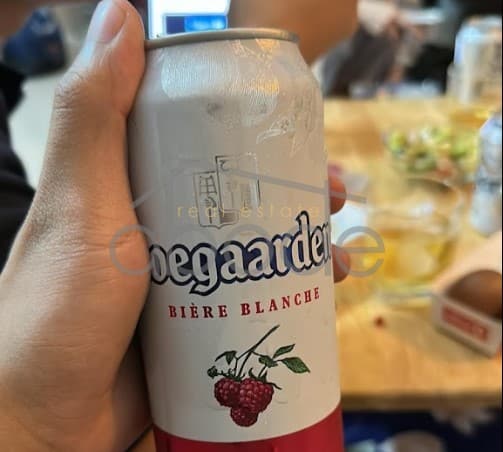 Sora Skybar
Level 37 Vattanac Capital Mall, Monyvong Blvd.
Opening hours 5pm – 12am (daily)
"Last, but not least, the bar with the best view of Phnom Penh. It is a beautiful high end rooftop bar with indoor and outdoor space
Unwind high above the city on a cantilevered terrace 37 floors up where you can feel the buzz of the city below."
https://www.vattanaccapital.com/rosewood-phnompenh/dining/sora-skybar/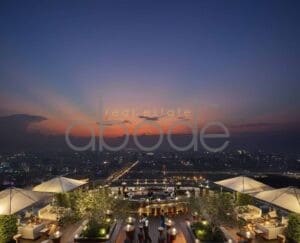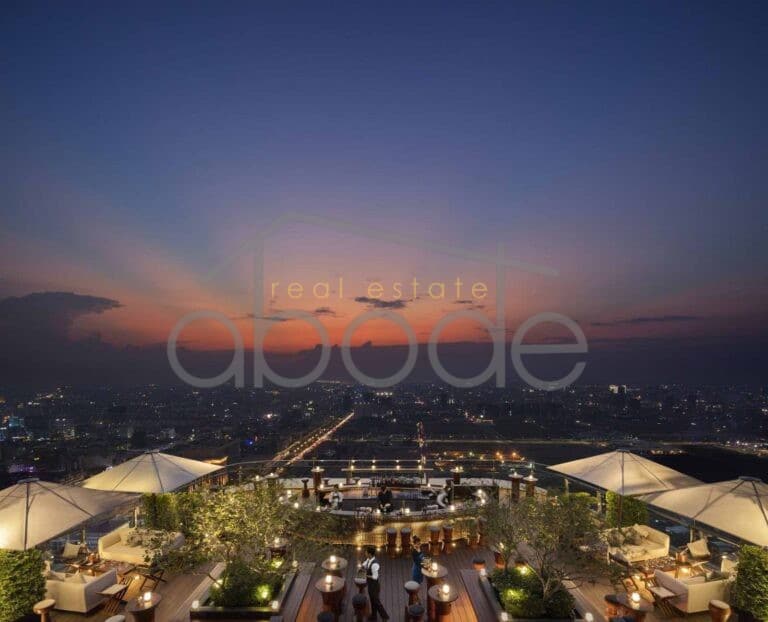 Post Script: Bassac Lane has a wide selection of bars and eateries on St 308 that generally open at 4pm and are open till late:
"Consistent quality and great outdoor seating to catch up with friends or people watch".
Check us out on Google