Whether you want to relax on a hot day, get some low impact exercise or simply top up your tan, here are the best swimming pools in Phnom Penh.
When it comes to cooling down on a scorching Phnom Penh day, nothing beats a swim.
Many hotel pools are international standard, with lush foliage, shaded loungers, poolside cafés and restaurants, and spa and massage services.
The best part is that many 5-star hotel pools are available for drop-in visitors.
So even if you're staying at the cheapest hostel, you can spend a few dollars and enjoy the high life in an upmarket urban resort.
As an expat, I often meet with friends, colleagues or clients at a hotel pool and, sometimes, I find a poolside lounge makes for a great workspace!
First some pool etiquette:
Non-guests are usually required to pay $5 – $10/day, with children half price.
Some hotels require you to buy a certain amount from their bar or restaurant.
Hotels give preference to paying guests, so call first to check availability.
Not all hotel pools are children-friendly so, again, check first!
Bring your own towel, swimming costume and footwear.
Cambodia is a Buddhist country, so please dress respectfully.
Bring insect repellent as many pools are surrounded by plants that attract bugs.
Hotels with bars or restaurants offer poolside service, so it is courteous to tip the waiter.
Best resort style swimming pools in Phnom Penh
In Phnom Penh, there are loads of swimming pools to select from so, to make things easier, here is a concise list of pools I think are worth checking out.
Each have lovely surroundings, are clean and decent service is offered at a reasonable price.
So… where are these gems?
THE BIRDCAGE
Pool hours: 9am – 9pm daily
Cost: Free with drinks and food (minimum $10)
Contact: 016 238 999
Pleasant atmosphere in a gay-friendly hotel space with plenty of seating and chill out areas in a shaded environment. The pool and surrounds are super clean and the staff very friendly.
https://www.birdcagecambodia.com/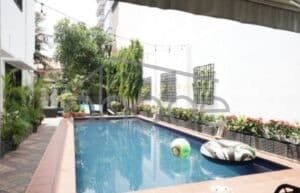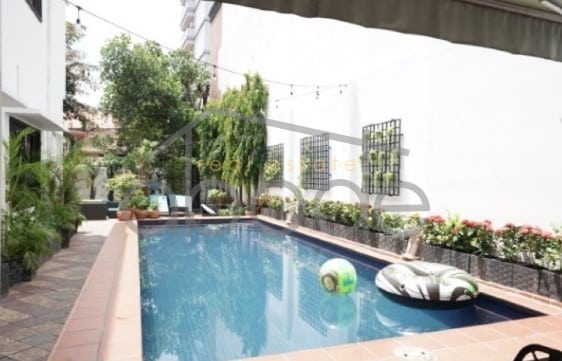 DIB CLUB
Pool hours: 9am – 9pm daily
Cost: $5
Contact: 099 997 740
The most famous public swimming pool in Phnom Penh with lounge areas, fine snacking, private functions and events and soccer fields.
DIB Club on Koh Pich (Diamond Island) is a popular space with a large outdoor swimming pool and lounging areas, bar and restaurant area under a shaded thatched awning.
It is available for private hire and you can book your own sala (private booth).
Cost: Access is free when you spend $5 USD (20,000 riels) on food or drinks.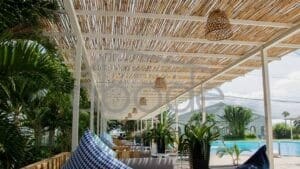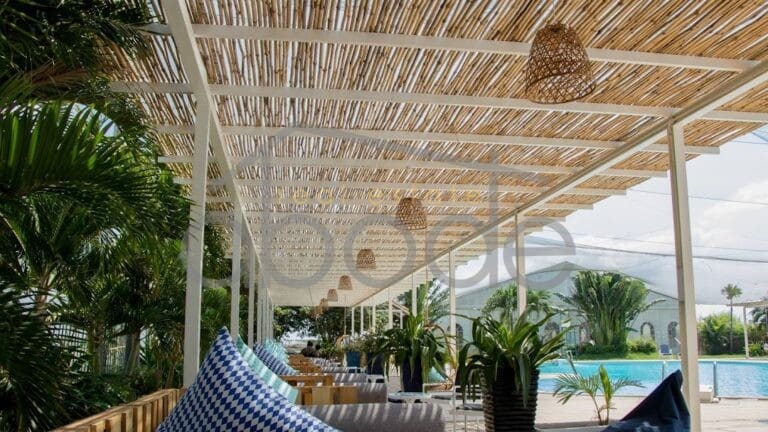 DIB club swimming pool Diamond Island Phnom Penh
SUN & MOON URBAN HOTEL
Pool hours: 9am – 9pm
Cost: TBC
Contact: 023 961 888
This hotel is one facet of the Sun and Moon Group which is wholly owned by a local Cambodian family.
The Sun and Moon urban hotel features an outdoor rooftop swimming poo in the Daun Penh district of Phnom Penh.
Guests and non-guests can enjoy dining options from an in-house restaurant, rooftop bar, fitness centre and spa facility.
The rooftop views are superb – day and night!
https://www.sunandmoongroup.com.kh/our-companies/sun-moon-urban-hotel.html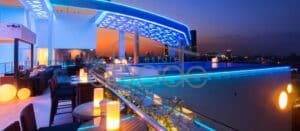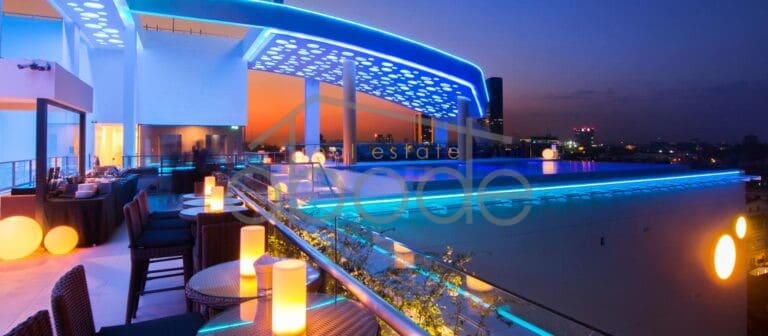 BAITONG HOTEL & RESORT
Pool hours: 9am – 9pm
Cost: Free with a treatment at Bodia Spa (2nd floor)
Contact: 023 223 838
This urban paradise is found in BKK 1, flanked by tall palms and soaring concrete walls loaded with foliage, making it an aesthetically dramatic pool.
The pool area is not currently available to walk-ins, but you can use it for free if you schedule a treatment at Bodia Spa on the hotel's second floor.
https://www.baitonghotel.asia/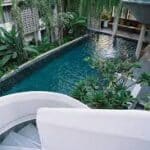 THE BALÉ PHNOM PENH
Pool hours: 7am – 7pm
Cost: Free when you eat at the restaurant
Contact: 023 900 425
The amazing pool overlooks the Mekong River, making it the most amazing of all Phnom Penh pools. The entire resort aims to promote relaxation, and a few hours here will help you get your zing back in your step! Reservations are necessary and subject to hotel capacity. The Theato Restaurant provides great dining (including a moderately priced poolside lunch buffet).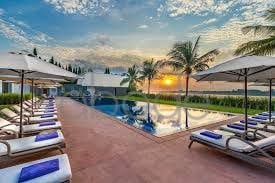 BLUE LIME HOTEL
Pool hours: 10am – 8pm
Cost: $4 (weekdays) and $6 (weekends) – adults only, no children allowed!
Contact: 023 222 260
The pool terrace at Blue Lime is spectacular, with towering palm trees, curtained cabanas, water elements and plenty of sunbeds.
The pool itself is wide and clear and a smaller indoor pool is available. Some rooms have direct access to the pool area.
https://blue-lime.hotel-phnompenh.com/en/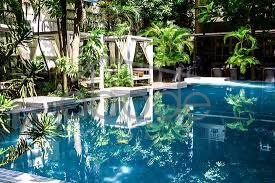 PATIO HOTEL
Pool hours: 6.30am – 11pm
Cost: $10 (adults) and $5 (children)
Contact: 023 997 900
The 16-metre infinity pool on the 8th floor offers breathtaking views of the Independence Monument and beyond.
While there is some cover, the pool area is exposed throughout much of the day, so it is best to go in the afternoon and enjoy the funky cocktail bar.
A glass walkway floats above the pool, linking the patio to the trendy Cambodian restaurant underneath.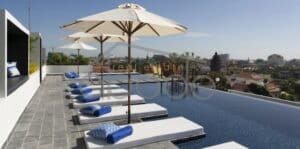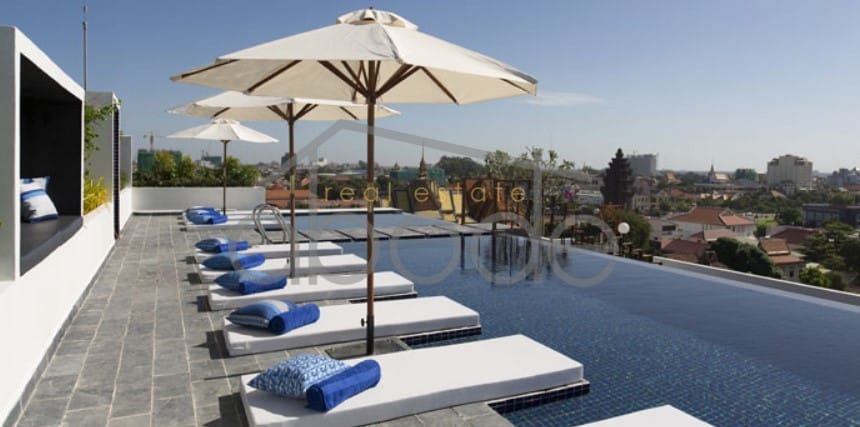 PLANTATION URBAN RESORT
Pool hours: 9am – 10pm
Cost: $5 (adults & children) – includes a drink at the bar
Contact: 023 215 151
Plantation has probably the city's largest and nicest hotel pool, however the large pool is exclusively available to hotel guests, with the smaller Red Pool available for casual users.
Plantation Spa has a sauna, steam room, Jacuzzi, beauty treatments and packages. The 240-minute package is $115, while a poolside massage is only $15.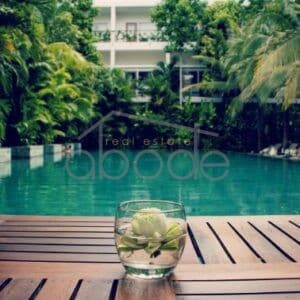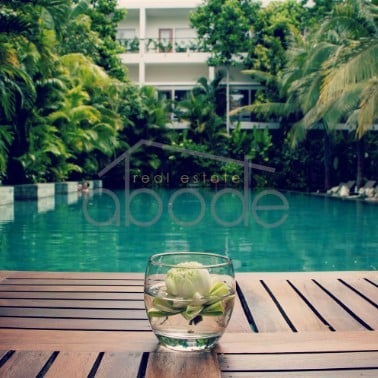 AQUARIUS URBAN RESORT
Pool hours: 10am–11pm
Cost: $12 (adult) and $6 (children)
Contact: 023 972 089
The pool area is the highlight of this hotel as the L-shaped saltwater infinity pool is situated on an open-air sky terrace with panoramic city views.
There are some interesting architectural elements, such as sun loungers carved into the pool, allowing you to sit on the edge and dip your toes in without getting up.
Shade is provided by umbrellas and potted plants and the pool has a glass wall on one side, providing interesting photo opportunities.
The sky bar and restaurant serve refreshments, while the Petal Spa provides traditional Cambodian therapies.
http://www.aquariushotel.asia/en/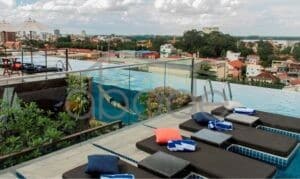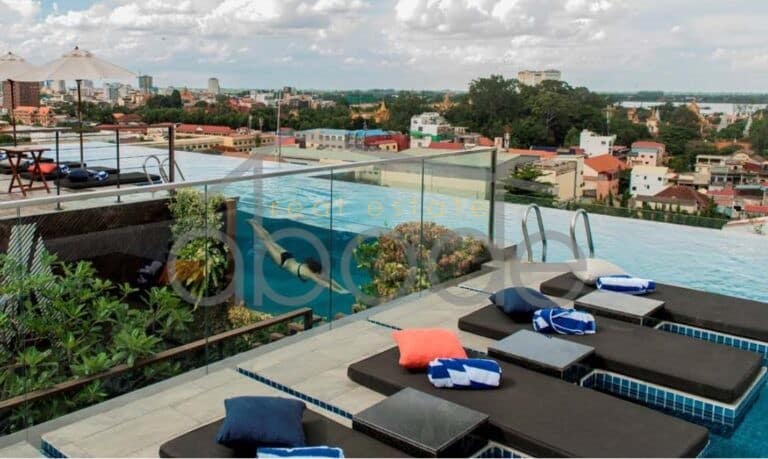 DOUBLE LEAF BOUTIQUE HOTEL
Pool hours: 9am–10pm
Cost: $7 (adult) and $3.50 (children)
Contact: 023 226 288
Unlike other hotels, where the pool are usually found in the rear, the pool at Double Leaf is positioned in the front.
It feels less private and secluded than other pools and there are only a few loungers, but there are gardens and water elements to enhance the atmosphere.
It is one of the few pools in Tuol Tom Poung, perfect for relaxing exploring the Russian Market.
This pool is best in the evening when it is lighted up, with fewer people around and the on-site spa is reasonably priced.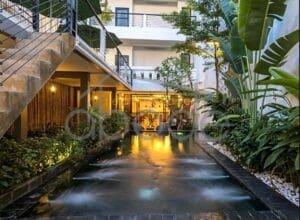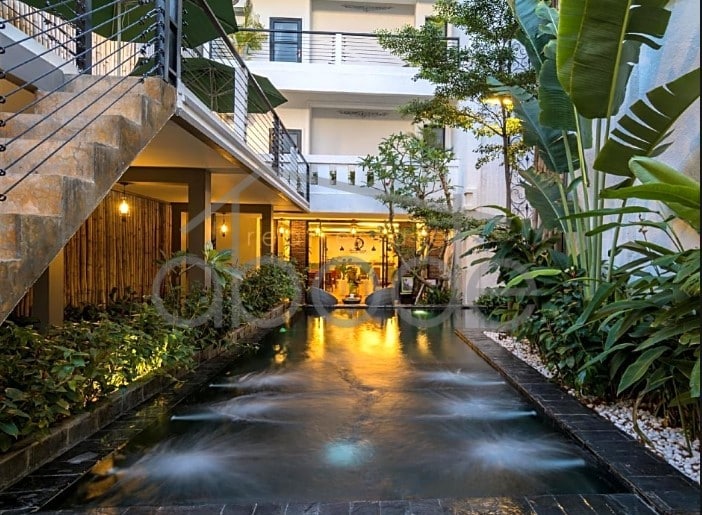 RAMBUTAN RESORT
Pool hours: 8am – 9pm
Cost: Free when you spend $8 on food and drink. No children allowed.
Contact: 012 929 328
Rambutan is a saltwater pool with a built-in waterfall and funky 'cave-like' private pods to hide in. The food is great, making it easy to spend the minimum (cocktails $4, and appetizers from $3).
This boutique promotes itself as the city's premier gay-friendly lodging and its location is more suited to couples than families.
Children are not permitted in the pool area and the price includes complimentary towels.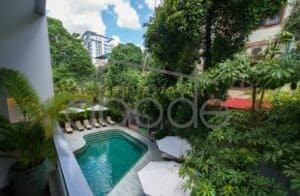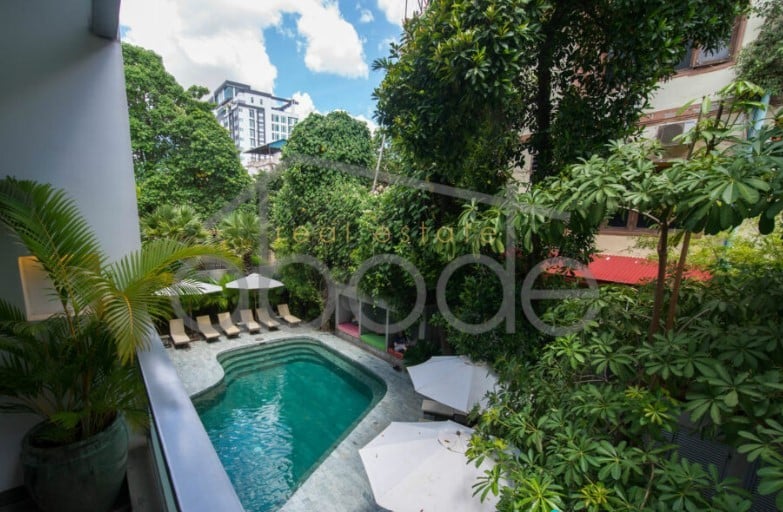 VMANSION BOUTIQUE HOTEL
Pool hours: 7am – 10pm
Cost: $5 (adults); children swim free – plus $7 minimum spend on food and drinks per adult
Contact: 023 219 000
The pool area feels a little cramped, but jasmine plants add a charming touch. There are sun loungers and umbrellas and an on-site bar/restaurant where visitors must spend a minimum amount.
https://www.canbypublications.com/phnompenh-ads/phnompenh-hotel-pages/vmansion-boutique-hotel-phnom-penh.htm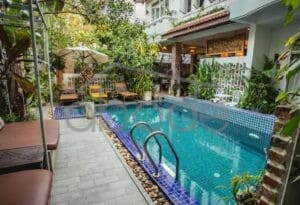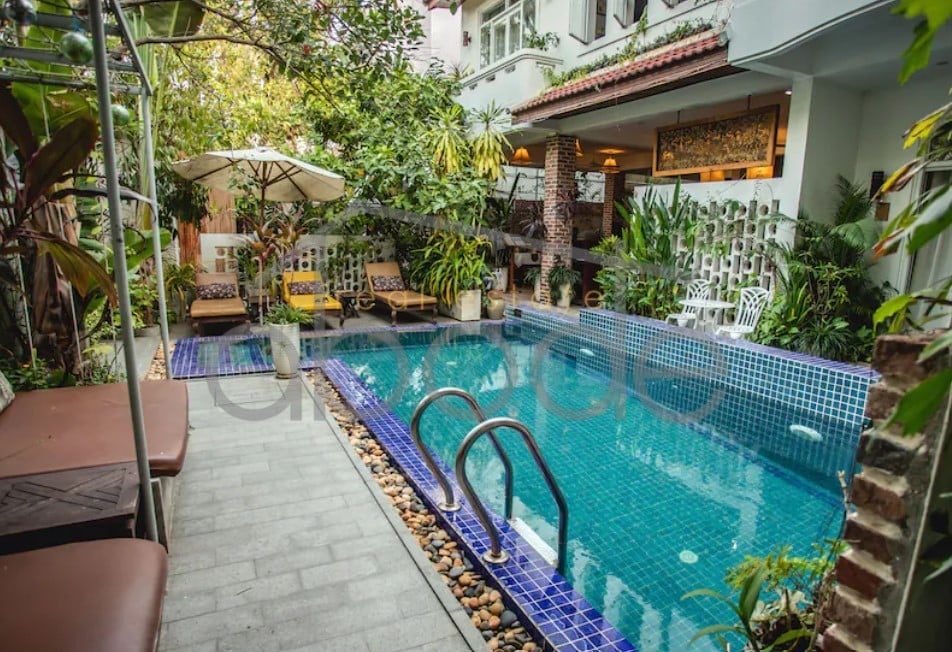 VILLA SAMNANG BOUTIQUE HOTEL
Pool hours: 8am – 9pm
Cost: $5 (adults); $3 (children) – includes a soft drink and towel hire
Contact: 023 221 644
The pool at this boutique hotel is very small and there isn't much space to roam around.
There are tables and chairs available and more seating in the bar, which opens into the pool area. Because of its central BKK 1 location, it is frequently crowded.
The price includes a soft drink and complimentary towel rental.
http://www.canbypublications.com/phnompenh-ads/phnompenh-hotel-pages/villa-samnang-boutique-hotel-phnom-penh.htm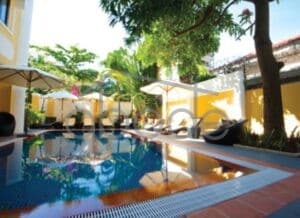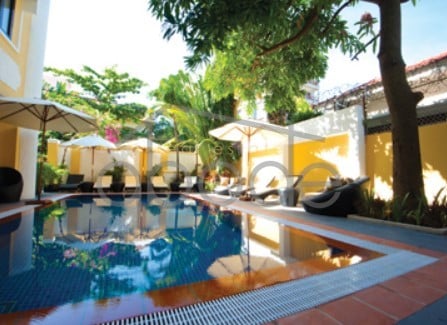 HARMONY PHNOM PENH HOTEL
Cost: $6 (adults) and $3 (children)
Pool hours: 8am – 8pm
Contact: +855 23 967 068
Harmony is a block away from Sisowath Quay, giving unparalleled views of the Tonle Sap River. If the little cascade pool is crowded, try the adjacent crescent-shaped outdoor hot tub.
There are a few loungers, tables, and chairs available, but the pool is fairly exposed and the concrete pool area gets the full sun.
http://www.harmonyhotelpp.com/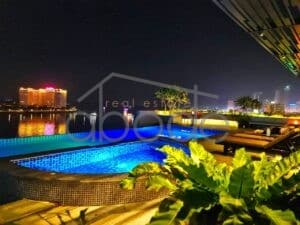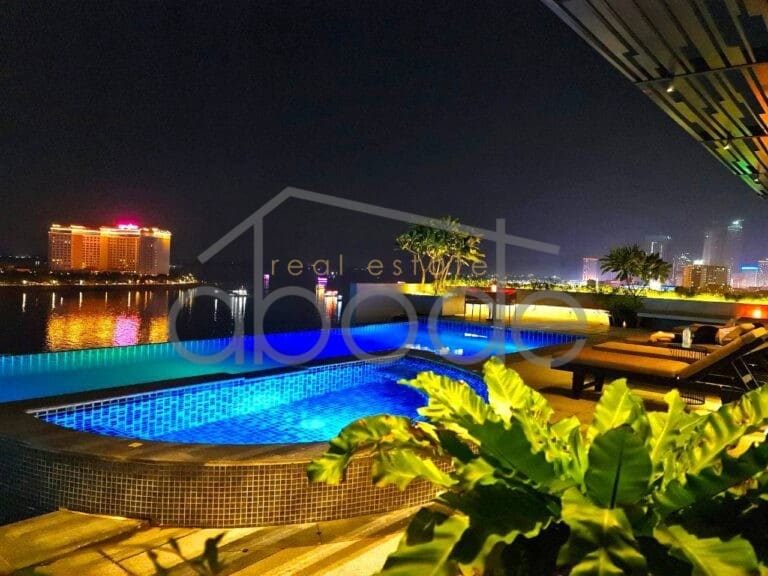 THE 252 HOTEL
Pool hours: 8am – 10pm
Cost: Free with a $5 minimum spend on food and drinks per person (including children)
Contact: 023 998 252
This boutique hotel is a short walk from one of Phnom Penh's top districts, Street 278, and boasts a 13-metre overflow pool tucked in a tropical garden.
Place your towel in one of five covered pavilions or around the pool's perimeter row of sun-drenched deckchairs.
At 7am a thatched-roof café in the garden serves breakfast and beverages.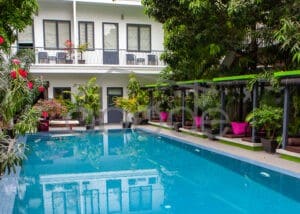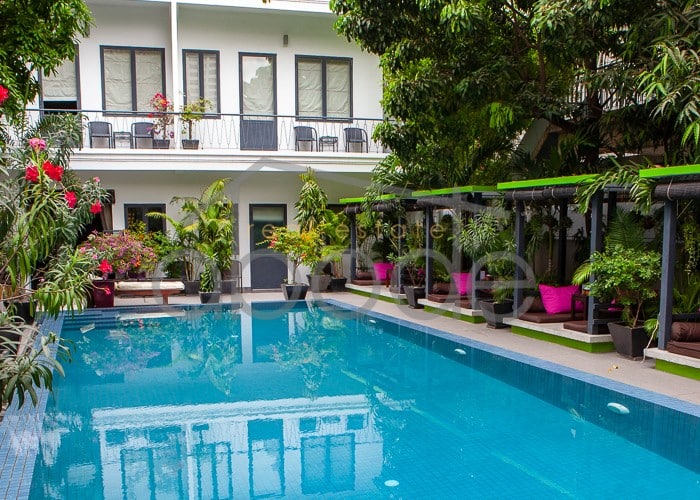 PENH HOUSE & JUNGLE ADDITION
Pool hours:
Cost:
Contact: 023 212 200
This hotel is divided into a four-story structure in the spirit of New Khmer architecture (Penh House) and a period boutique villa converted into a boutique hotel (Jungle Addition).
They form one of the most charming hotels in Phnom Penh.
There are also two pools. Penh House's rooftop pool is an ultra-modern 1.4-metre-deep basin pool with 360-degree views of the city.
The Jungle Addition pool is smaller and has a lovely resting area surrounded by lush vegetation.
https://www.jungle-addition.com/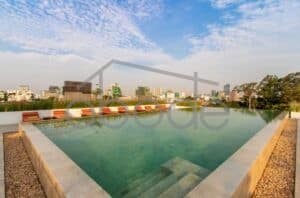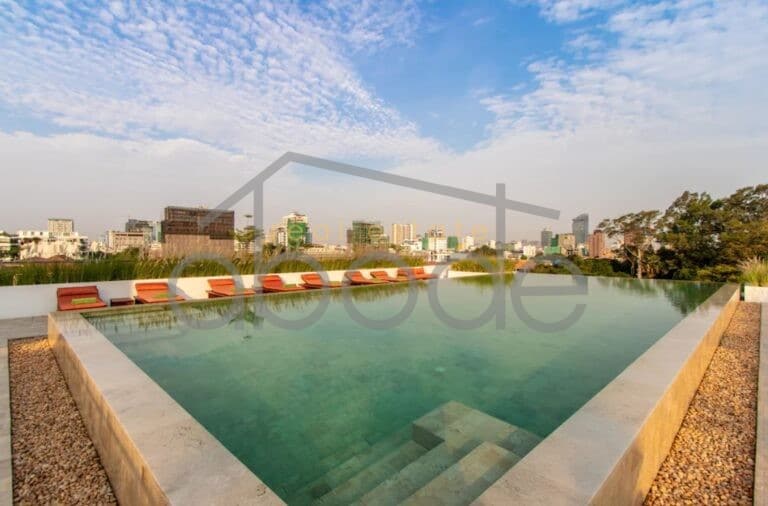 We're on Google