Luxury properties indicate how much a market is willing to spend.
Cambodia is no exception with its booming property sector offering plenty of luxury apartments for sale and for rent that deliver premium lifestyle experiences.
From spacious rooms, magnificent views, quality amenities, and a prime address, every box is ticked in Cambodia's high-end apartments!
Abode-realestate.com, Cambodia's emerging boutique property agency has investigated the best luxury apartments in Cambodia's highly prized areas.
Here is a snapshot of 9 luxury apartments for rent and for sale in Phnom Penh today:
Habitat
Habitat Condominium is a multi-award-winning project near BKK 1 foreign quarter in Phnom Penh's core business district.
It received the 2017 Cambodia Property Awards for "Best Condo Cambodia", "Best Condo Phnom Penh", and "Best Residential Interior Design".
It is in Tonle Bassac, a popular expat neighborhood near AEON Mall. It is also near hotels, banks, markets, restaurants, banks / ATMs, sports clubs, entertainment venues, and retail stores.
The inside of Habitat explains why it gets that name. Elegant finishes, built-in European appliances, and herringbone-style flooring produced from the best Cambodian hardwood characterize the interiors.
Each luxury duplex apartment has a picture-perfect view of Phnom Penh including the penthouse apartment (for rent and for sale).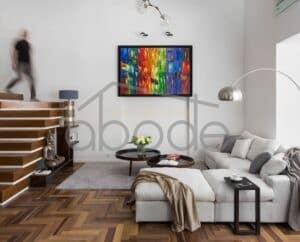 Picasso City Garden
Picasso City Garden is a well-known development located in BKK1; the heart of Phnom Penh. It stands out for its contemporary style, loosely modelled on the Naga, an auspicious Khmer symbol and iconic emblem.
Picasso City Garden is one of Phnom Penh's most central luxury projects, allowing residents access to many quality schools, restaurants, bars, cafés, embassies, malls, supermarkets, and other facilities for modern living.
Art may imitate life, but in Picasso City Gardens, each resident can experience first-hand stylised modern living accompanied by a variety of facilities like swimming pools, bars, cafés, and an art studio in homage to the great man himself.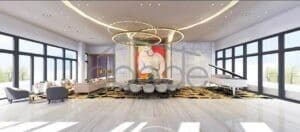 Sky Villa
Sky Villa needs little introduction to those in the know; it has the greatest square metre per unit, rivalling most villas with gardens; the most sought-after property among Khmer elites.
Sky Villa, unlike 'normal' villas, permits its tenants to dwell in 7 Makara, a central neighborhood of Phnom Penh.
Its spacious interiors can comfortably accommodate a big family, with enough of space for each person to call their own.
But what is a luxury residence without luxury services? Well, Sky Villa provides hotel-like amenities that provide a premium experience to all in one location.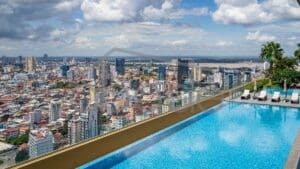 Odom
Odom will be an upscale development featuring residential and commercial facilities, located amidst an increasingly fast-paced Phnom Penh.
It is located near Bassac Lane, a popular expat hangout, AEON Mall the #1 shopping destination and many of the city's popular stores, bars, and restaurants.
Rapidly expanding cities are frequently dubbed as concrete jungles, but Odom is one of the few places that provides a refreshing urban lung.
Its overall design is intended to provide a calm, modern area for its users.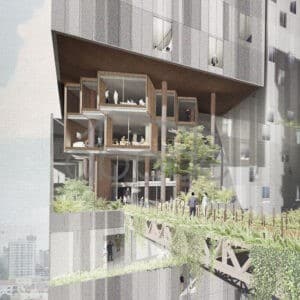 Sun City Bassac
SunCity Bassac is the second project by SunCity, administered by Suncity Management, a subsidiary of the Anana company.
It sits alongside established icons in Daun Penh and BKK as its team is known for its style, high-end furnishings, and emphasis on service and maintenance.
It has raised the bar for luxury living in Phnom Penh, fueled by its success and repeated requests from customers to acquire units.
SunCity Bassac seeks to establish a new chapter in the industry with a solid foundation in property development and a devoted team of specialists.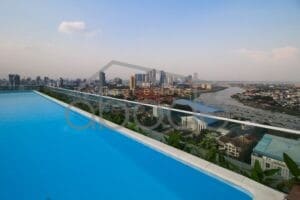 Silvertown Metropolitan
Silvertown Metropolitan is a premium standard apartment building in Phnom Penh.
It is a luxury serviced living choice for renters and investors looking to establish a presence in the booming high-end industry.
Silvertown's location makes it simple for residents to travel about.
Restaurants, boutique shops, markets, and major thoroughfares like Monivong and Mao Tse Tung boulevards are all nearby.
AEON Mall 1 and Chip Mong Noro Mall are two nearby and popular Russian Market is also nearby.
Silvertown Metropolitan offers hotel-like amenities that outperforms competition in the luxury home sector.
Silvertown Metropolitan listing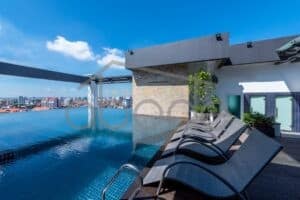 Flatiron
Meridian's Flatiron is one of the most sophisticated luxury complexes accessible today. It is a multi-award-winning complex, with accolades as "Best Developer", "Best Mixed-Use Developer", "Best Serviced Apartment Development", and "Best Mixed-Use Interior Design".
Flatiron is part of the Phnom Penh City Centre complex, which includes contemporary community malls, homes, and other facilities.
It complements what is now available with an astounding assortment of facilities as well as a contemporary interior design.
A sky-infinity pool, workout room, rhythm cycling room, sauna, conference room, lounge, sun terrace, grand foyer, and fine dining restaurant are among its features.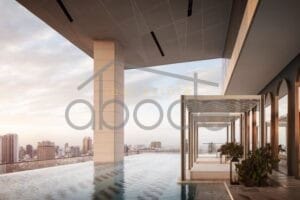 L'attrait
L'attrait in BKK1 is a luxury development that provides a practical, reasonable, and attractive finish to satisfy the demands of Cambodia's next generation.
The project provides a high-quality and well-designed living area, which are design cornerstones in high-growth economies.
L'attrait is located in BKK 1 and is close to stores, restaurants, and pubs. Residents enjoy easy access to the CBD through main arterial routes, as with any luxury address.
The interior design of L'attrait is minimalist. Each of its apartments has simple yet high-quality fittings.
L'attrait is a residence that provides comfort in the apartments as well as outdoor facilities.
Its quality furnishings are complemented by facilities that enhance the modern urban living experience.
The Peninsula
The Peninsula in Chroy Changvar is a multi-award-winning project having won Best Interior Design and Best Architectural Design categories at the 2019 Cambodia Asia Property Awards.
It is known for its unique combination of a private residence, diverse facilities, and hospitality-inspired services.
It is ideally positioned near the Japanese Bridge roundabout at the entrance of Chroy Changvar.
Its surroundings have seen more facilities like as supermarkets, convenience stores, and a variety of other developments appearing more recently.
The Peninsula provides "smart community living" using shared and unique features, such as a private kitchen and terrace as well as a social club area.