Phnom Penh real estate, especially the rental market, is not easy to navigate around as there's a lot on offer and prices vary depending on where, when and what you are looking for.
The city offers a range of properties, so it is important you know what is available.
Covid made things difficult for everyone and all over town, people started negotiating heavily.
Although there is some residual goodwill, much has gone and prices are now close to pre-pandemic levels. Don't expect real estate miracles anymore!
Notwithstanding villas and freestanding homes, there are essentially four types of rental options.
These are Khmer-style shop houses, renovated shop houses, western apartments, and condos / serviced apartments each with a distinct feature and price tag, depending on location.
Khmer-style shop houses
Khmer-style shophouses are common in the city and are usually found in 3 – 4 story low-rise buildings.
They are typically long and narrow and can be quite dark. The entrance will be at the front or the rear and the side walls have no windows. Rear access can sometimes be unnerving for Westerners.
Bedrooms often don't have external windows and furniture is not usually built in.
Khmer-style kitchens are rudimentary and often lack storage. Likewise, bathrooms are basic with no separate shower or windows.
Furniture is usually rattan or wood.
This style is popular with foreigners after a local experience.
Prices for 1 – 2 bedrooms vary from $300 – 500 / month (city centre) to $250 – $400 / month (outer areas).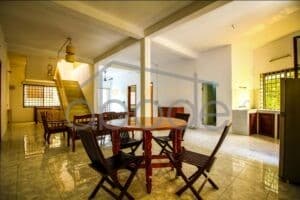 Renovated shop houses
Renovated shop houses are less common. They also offer a local experience sprinkled with western creature comforts.
They are essentially updated shop houses with new floors, additional windows, contemporary lighting, modern furnishings, hot water and so on.
Bedrooms may have built in robes, shelving and A/C. Kitchens will have better storage, more workspace and new appliances.
Though more modern and western than a Khmer style shop house, furnishings and construction may be cheap and require a bit of maintenance.
This style is good for foreigners wanting comfort on a budget.
For a 1 – 2 bedroom abode expect $600 – 800 (city centre) or $400 – $600 / month (outer areas).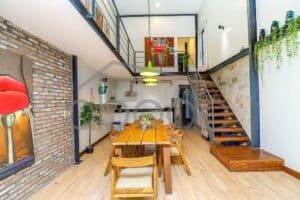 Western apartments
Western apartments are found in low-rise, walk-up apartment and multi-unit towers and tend to have more amenities.
They are generally new, have varied floor plans, windows in all rooms and plenty of natural light and air circulation.
Kitchens have good standard appliances, workspaces and storage. Bathrooms will be newer and have a separate shower and / or bathtub.
Living spaces will be larger, brighter and fitted out with plush furniture. Cleaning, internet, cable and drinking water will be included in the rent.
Some will be accessed by elevator and may have rooftop terraces. Construction is usually of a better standard, with 24-hour security and parking for bicycles and motos.
Maintenance is better and quicker.
Prices for a 1 – 2 bedroom western apartment vary from $600 – 1200 / month (city centre) to $500 – 800 month (outer areas)
Condo / serviced apartments
A condo or serviced apartment is generally of a high standard with a western layout, natural light, city views, modern kitchens and bathrooms.
Services like cleaning, laundry, internet, cable TV, drinking water, 24-hour security and reception, multiple-elevator access, parking, gym and swimming pool come as standard.
Expect to have a streamlined and organized rent collection and timely maintenance. Although easy to find, prices can be quite high.
The buildings tend to be larger; perfect for families wanting quiet and security or professionals wanting to entertain and enjoy the extra space and comfort.
Prices for a 1 – 2 bedroom luxury condo / serviced apartment vary from $1200 – 6000 / month (city centre) to $1000 – 2000 /month (outer areas).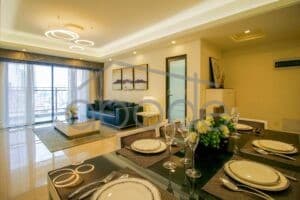 We're on Google