Superb 7 hectare land for sale $50/sqm (neg) | Kandal Province
Details
This 7-hectare hard titled undeveloped land in Kandal Province is now available for sale at $50/sqm (neg).
It is near to river the ferry terminal, 7NG road and 7NG developments, near the Mekong River only a short distance to the future bridge that will join east and west Phnom Penh.
Land in Chroy Changvar in 2019 was already fetching around $1,000/sqm.
In 2015, Prime Minister Hun Sen announced plans to construct two bridges to connect Phnom Penh and the east bank of the Mekong River.
One of these bridges will link Arey Ksat to Kdei Takoy on National Road 1 following which Areyksat will be incorporated in the Phnom Penh Municipality.
According to the Phnom Penh Post in 2018, construction of this bridge was at least three years off, meaning that it cannot be too far away now.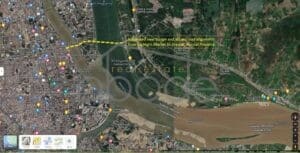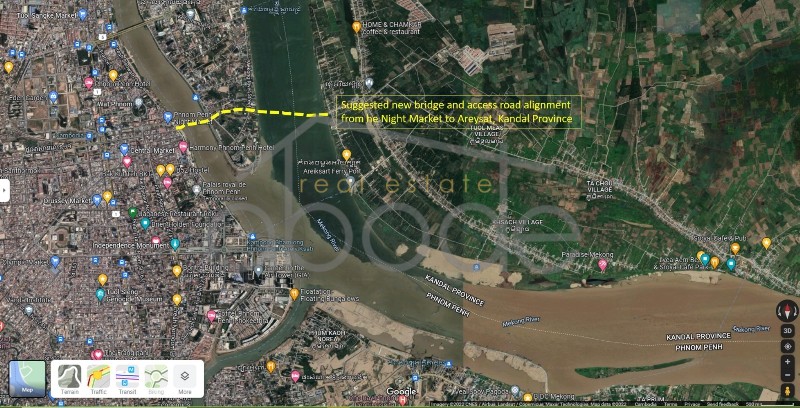 For serious buyers, please request:
Copy of hard title Due diligence report
Future master plan of Phnom Penh city
Property ID: KAN.A1  
Does this land interest you?
Does this location or property type interest you?
Send us a message by filling out the form below to schedule a FREE viewing.
We have apartments, condos, office spaces and land in many locations all over Cambodia.
Kandal: forgotten, outlying, expanding
Kandal, once forgotten and outlying, is now expanding with suitable living and working alternatives on offer.
According to the World Bank, successful economies are highly urban. Nations with similar GDP to Cambodia (e.g. Bangladesh) have a rate around 35%.
Cambodia's is just over 20% and expected to be 36% by 2050. Phnom Penh has seen massive growth recently.
It now has 2 million+ residents, making it the largest and fastest growing city in the country.
Better planning is now being employed to mitigate congestion and make the city a more apt gateway to the world.
Areas ignored in the past are now attractive.
PPSEZ is an example of phased land use to decentralise commerce and stimulus for the city to extend west.
Other developments in Kandal province will stretch the city limits east, north and west.
Phnom Penh's projected growth and ongoing foreign investment offer almost unparalleled opportunities.
This is a good time to look before everyone else does!
Good guide to investing
Here is a good guide to investing in Cambodia that should steer you away from total financial disaster.
The real estate market in Cambodia is extremely varied, more so than most countries, which can make investing either a smooth journey or a rocky one.
Innovative Cambodia my 2nd home program
Cambodia my 2nd home (CM2H) is an innovative initiative recently launched by KHCA (Khmer Home Charity Association) in association with the Ministry of Interior (MOI).
Its aim is to help foreign nationals enjoy a series of measures to facilitate living and business in Cambodia.
Benefits for participants in the Cambodia my 2nd home program include – a 10-year unlimited entry / exit visa.
After 5 years, they are eligible to apply for a Cambodian passport and enjoy the advantages of the ASEAN network.
Grand designs of a super Mekong River bridge to Kandal Province in 2025?
Areyksat will develop significantly as the Korean government explores grand designs of a Mekong River bridge connecting Phnom Penh to Kandal Province.
Areyksat, on the eastern bank of the Mekong, is mooted to fall under the jurisdiction of Phnom Penh.
As part of the plan, it will become a satellite city with shopping malls, residential, commercial, leisure and entertainment precincts.
Technical teams researched numerous potential sites at Chroy Changvar and at Daun Penh's Riverside to connect with Kandal Province.
A 'Bay Area Economic Circle' is forming in central Phnom Penh and incorporating the Mekong and Tonle Bassac rivers into the city fabric will be a landmark achievement.
Connecting the various population centres is expected to alleviate traffic congestion and make travel more convenient.
Phnom Penh's outward expansion has been prevalent in the north (Sen Sok), the south and west (Meanchey) now full of boreys from well-known developers.
But, the Cambodia South Korea Friendship Bridge (Svay Chrum) will open up an eastward expansion.
Check us out on Google
ID:

20957

Published:

February 21, 2023

Last Update:

May 29, 2023

Views:

733