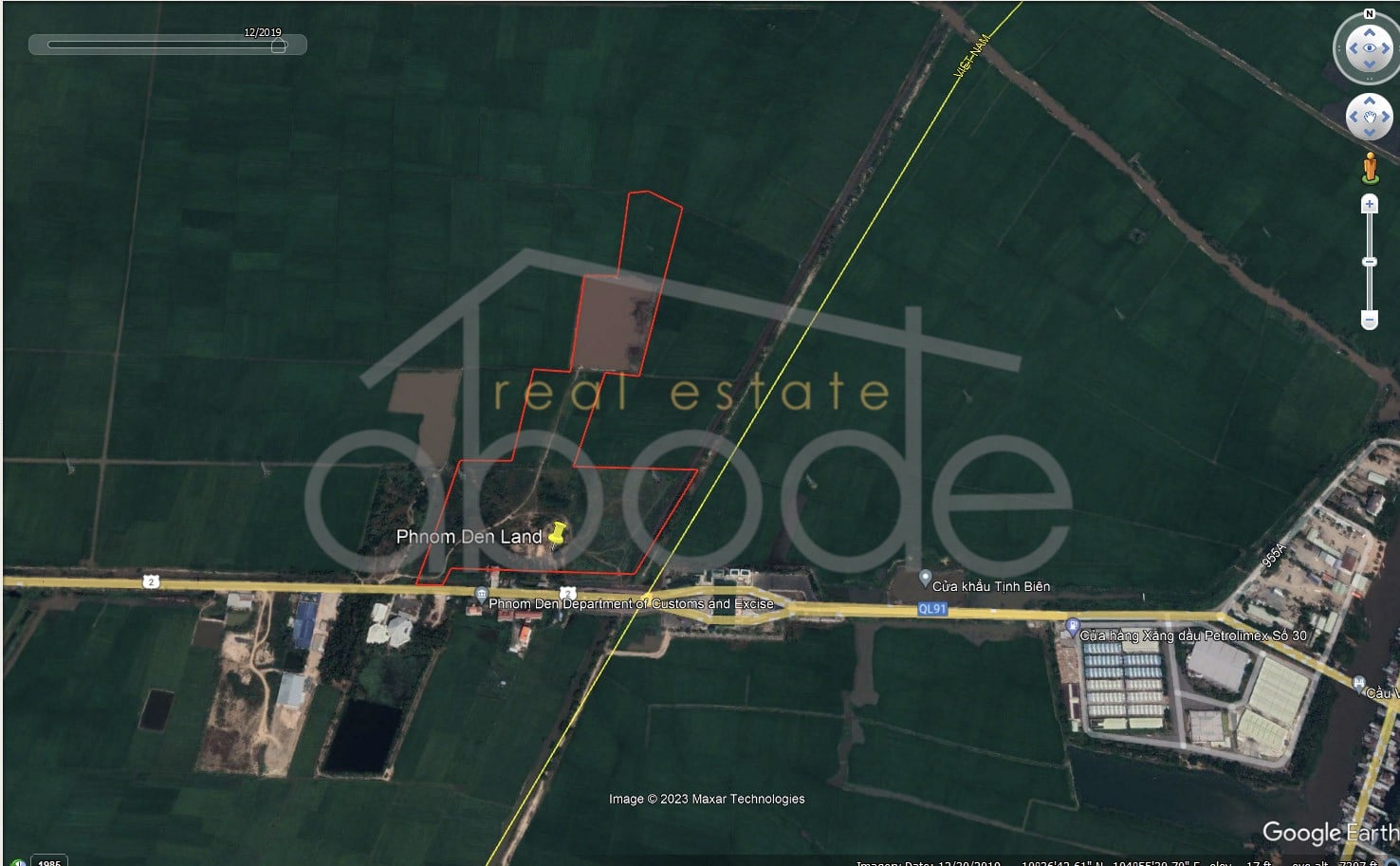 Features
Close to CBD
Development potential
hard title
Highway access
Details
This land parcel of 124,318sqm (12.4 hectares) with direct access to National Road 2 is now available for sale. comprised of 4 hard title deeds in Takeo Province on the Cambodia-Vietnam border.
National Road 2 land features:
Direct access to National Road 2 and the Vietnamese Border (<5oom)
4 contiguous hard-title land plots ready for development
120km from Phnom Penh City
264km from Ho Chi Minh City
Original ID: TAK.A1
About Takeo:
Takeo Province borders Kandal to the East, Kampot to the West, Vietnam to the South and Kampong Speu to the North.
The province is subdivided into 9 Districts and 1 City, further subdivided into 97 Communes (Khum), 3 Sangkats and 1119 Villages (Phum).
Takeo Province is an ancient Cambodian area that predates the Angkor era in Siem Reap Province.
It is often recognized as "the cradle of Cambodian civilization," as Takeo, being one of the ancient cities, features 34 temples and other natural tourism spots.
The historical and cultural tourism sites include ancient temples such as the Phnom Da temple, the Chiso temple, the Ta Prohm temple, the Yeay Poeu temple, and the Thmor Dos temple, according to the book "Understand the Southern and the Seaside Region in Cambodia" by Sipar in the Khmer language.
Furthermore, the Neang Khmau temple, with its two towers fashioned from bricks and limestones, is located within the Neang Khmau temple pagoda.
The Bayong temple is also a historical site located atop the Bayong mountain.
The Bati River natural tourist site is ideal for family vacations during the holidays, with its panorama of wooden cottages beside the natural body of water and rows of local grocery stores.
The Phnom Tamao Zoological Park and Wildlife Rescue Center is made up of temples, woods, mountains, lakes, and the zoo, which opened in 1995.
Every year, this location attracts a steady stream of domestic and foreign visitors.
Aside from historical landmarks and natural attractions, Takeo is a region rich in handicraft and agriculture. Rice production and fishing remain robust.
In the province, visitors may see farmers harvesting palm goods and raising ducks for eggs.
Silk is notable for its excellence in the area in terms of workmanship. Its freshwater river lobsters are also an appealing alternative for people who appreciate dining.
Small-scale silk manufacturing has grown significantly. Silk manufacture may be found in various locations, including Prei Kabas and Bati.
Trapeng Krasang commune, Peaream commune, and Tnoat commune have the largest silk producing output in Bati district.
When compared to the lobsters farmed in Prei Veng, Takeo's freshwater lobsters are not far behind in terms of flavor. However, due to increased demand, the lobster population in this region has decreased.
Lakes with a high concentration of lobsters may be found in the districts of Angkor Borei, Borei Chulsa, and Koh Andet.
Good guide to investing in land in Cambodia
Here is a good guide to investing in Cambodia that should steer you away from total financial disaster.
The real estate market in Cambodia is extremely varied, more so than most countries, which can make investing either a smooth journey or a rocky one.
What separates a successful from unsuccessful investor is not pure luck, as many think, but the ability to recognise and avoid mistakes.
Investing in Cambodia is no different, so here are some things to consider before you part with your hard earned cash.
Post Covid, 2022 and a brave new normal
There is some doubt as to what a post Covid world will look like even though many say things will be back to a brave new 'normal' by the end of 2022.
It is widely known that the pandemic changed consumer behavior and spending habits enormously.
The suspension of regional and international travel, for instance, directly impacted retail, tourism and hospitality sectors across the globe.
This led to a rise in online shopping and entertainment platforms and is likely to create long-term effects on retail markets and eventually real estate.
Cambodia for sale
To know why Cambodia is attractive for foreign investment, one need look no further than the former Prime Minister:
"To ensure a sound macro economy and political and social stability, the government is open to all to do business and invest in the Kingdom." (December 2019 PM Hun Sen).
Cambodia has about 100,000 expats enjoying low living costs, relaxed lifestyles and the Buddhist influence.
It lures many into business and investment and it's easy to see why.
Check us out on Google
ID:

28603

Published:

September 12, 2023

Last Update:

September 12, 2023

Views:

34