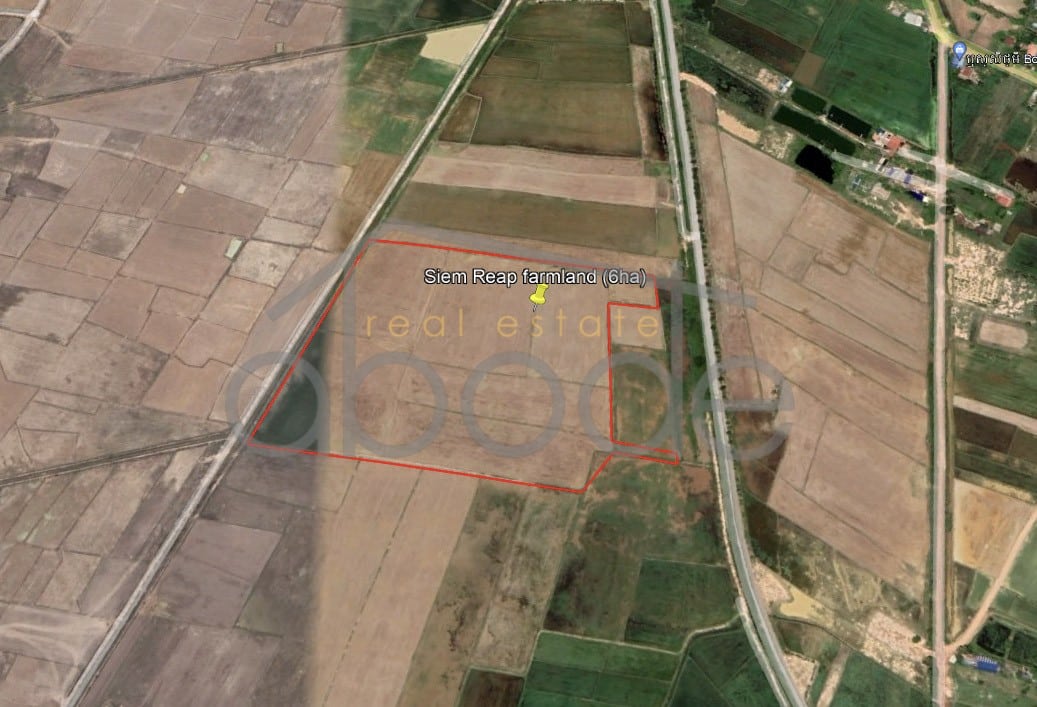 Features
Close to CBD
Development potential
hard title
Highway access
Details
This land parcel of 60,099 sqm (6-hectare) with direct road access and hard title is now available for sale only 17km from Siem Reap City Centre.
Siem Reap land features:
Direct road access (2 access points)
1 hard-title land plot ready for development
Option to purchase adjoining land
17km from Siem Reap city centre
7km from National Road 6
Original ID: SR.AA13
Does this land interest you?
Does this location or property type interest you?
Please send us a message using the contact form below to schedule a FREE viewing.
We have apartments, condos, office spaces for rent or for sale in Phnom Penh, Bavet, Kampot, Kep and Sihanoukville.
Siem Reap
In 'normal' years, the northwest of Cambodia attracts millions of tourists wanting to see the Angkor temples.
However, most go directly to the city and not witness the beauty of the surrounding province.
Siem Reap province is located about 300km northwest of Phnom Penh and covers a total area of around 10,300km2.
It borders Oddar Meanchey (north), Preah Vihear and Kampong Thom (east), Battambang (south) and Banteay Meanchey (west).
It borders the Tonle Sap (the largest freshwater lake in Southeast Asia) and Phnom Kulen, an isolated mountain and the highest point in the province, standing at 487m.
Siem Reap city is the 5th largest urban centre in Cambodia after Takhmau, Battambang, Serei Saophoan and Phnom Penh.
The province has 12 districts, 100 communes and around 875 villages.
Most of the villages are located in Angkor Chum, Chi Kreng, Krolanh, Puk and Sot Nikum. Angkor Thom district is best known for Angkor Wat and Angkor Thom.
Many people also visit Banteay Srei to visit the famous namesake temple.
Nature
Most of the region is full of wet plains, particularly in the south near Tonle Sap.
In the wet season, rice fields and other plantations are well irrigated, and the north covered in thick, green jungle.
The Mekong River is narrow as it passes through the province but is an important source of water for the region, flowing from Phnom Kulen to the lake.
Real estate
Siem Reap is a major tourist destination and the demand for real estate has been growing steadily.
It has a wide range of hotels, offices, commercial spaces and residential properties catering to any budget.
These are the most popular places (with indicative rents and land prices per metre):
Sala Kamreuk: Popular expat area with many residential and commercial properties.
Rent $200 – $1,500/month or buy $300 – $400/sqm.
Svay Dangkum: A residential area popular with locals and long-term expats where many good villas are located.
Rent $60 – $900/month, villas $1,000 – $2,000/month and $300 – $1,500/sqm to buy.
Wat Bo: Mostly commercial with some residential properties near Pub Street.
Apartments $200 – $1,500/month or buy $400 – $2,500/sqm.
Night Market: Popular tourist area comprised mostly of restaurants, bars, hotels, and guesthouses and some residential properties.
Apartments $300 – $1,000/month or buy $600 – $2,000/sqm.
Slor Kram: Near Wat Bo, popular with locals and long-term expats due to its proximity to the centre.
Apartments $250 – $700/month or buy $250 – $700/sqm.
Wat Damnak: Comprised mostly of commercial establishments, bars, restaurants, hotels, shops and apartment buildings.
Apartments range $300 – $1,500/month or buy $400 – $1,200/sqm.
Chreav: A rural area full of rice fields. Development is underway because of the new ring road that is being constructed and land is being subdivided for residential developments. Houses can be rented for $300 – $500/month and land to buy $30 – $60/sqm.
Bakong: A temple area known for its floating villages and rice fields. Land $6 – $30/sqm.
Wat Athvear: A semi-rural area on the road to the floating villages. Apartments and villas are generally not available in these areas, but land is available $100 – $250/sqm.
Kouk Chak: A semi-rural area becoming more developed. Apartments are available to rent for $200 – $400/month. Land is available to buy at $150 – $400/sqm.
Sambour: A rural area with good access to the ring roads and will be developed in coming years. Land can be bought for $60 – $120/sqm.
French Quarter: Where most commercial establishments (restaurants, bars, banks and hotels) are located. Apartments are not available here and land is generally $1,000 – $3,000/sqm.
Good guide to investing in land in Cambodia
Here is a good guide to investing in Cambodia that should steer you away from total financial disaster.
The real estate market in Cambodia is extremely varied, more so than most countries, which can make investing either a smooth journey or a rocky one.
What separates a successful from unsuccessful investor is not pure luck, as many think, but the ability to recognise and avoid mistakes.
Investing in Cambodia is no different, so here are some things to consider before you part with your hard earned cash.
Post Covid, 2022 and a brave new normal
There is some doubt as to what a post Covid world will look like even though many say things will be back to a brave new 'normal' by the end of 2022.
It is widely known that the pandemic changed consumer behavior and spending habits enormously.
The suspension of regional and international travel, for instance, directly impacted retail, tourism and hospitality sectors across the globe.
This led to a rise in online shopping and entertainment platforms and is likely to create long-term effects on retail markets and eventually real estate.
Cambodia for sale
To know why Cambodia is attractive for foreign investment, one need look no further than the former Prime Minister:
"To ensure a sound macro economy and political and social stability, the government is open to all to do business and invest in the Kingdom." (December 2019 PM Hun Sen).
Cambodia has about 100,000 expats enjoying low living costs, relaxed lifestyles and the Buddhist influence.
It lures many into business and investment and it's easy to see why.
Check us out on Google
ID:

28612

Published:

September 12, 2023

Last Update:

September 12, 2023

Views:

52